We spend 1/3rd of our day in our bedroom sleeping, reading a book, watching a movie on a laptop or mobile phone, or working on our laptop. Our bedroom is an escape from reality to a dreamy world at the end of a long day. A bedroom is not just a room, it has countless dreams in it that we have dreamt.
A bedroom with a spectacular outside view, splendid designs wooden furniture, stunning wall designs & textures makes our bedroom a complete room for sleep, a holiday retreat, and a luxurious suite. In this blog, we will walk you through 6 must-haves for your bedroom in 2023.
1. Room with a spectacular or mesmerizing view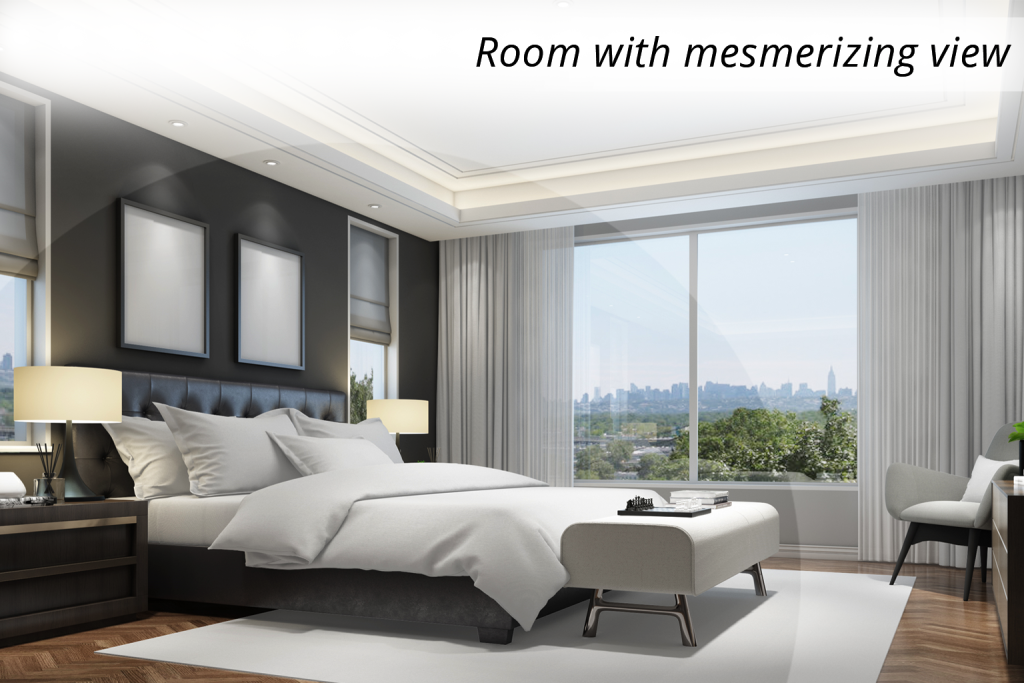 Many people often miss out on paying attention to the view outside their bedroom, even for their master bedroom. It is one of the salient attributes you need to pay attention to while buying a residential property.
When you buy a residential property, be it an apartment, villa, or row house, ensure an excellent view in the form of a river, small lake, mountains, beach, garden, or open ground. It will make you feel airy and add a charismatic aroma to your bedroom. Having a spectacular or mesmerizing view outside the window will give you positive vibes.
Note: Opt for a combination of low free-standing and built-in joinery work to move the furniture when not in use and enjoy the view.
At 44 Wood, we have a team of the best Wooden Furniture Designers in Accra, Ghana, who will help you design bedroom wooden furniture meticulously so you can enjoy the outside view without blockage through furniture.
2. Built-in furniture & joinery work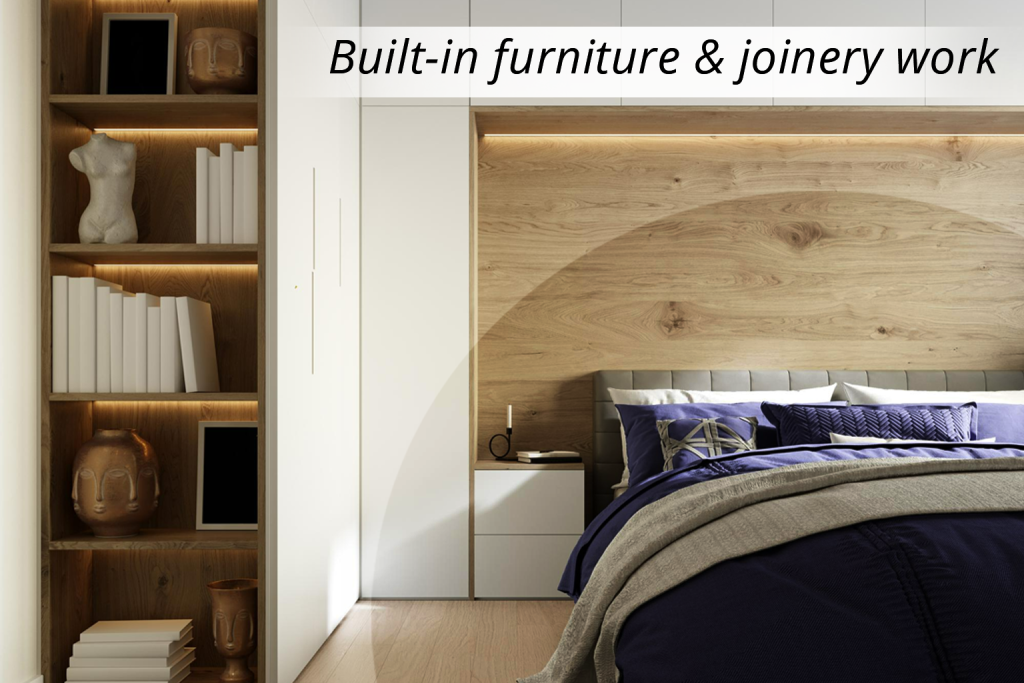 Joinery is one of the finest works of woodwork that precisely cut and joins wooden furniture pieces through various rigorous techniques to make them look connected.
Opting for freestanding or built-in furniture and clubbing it with joinery work will make your bedroom like an opulent suite, giving you royal & plush vibes.
It integrates core bedroom furniture: bed, side table, bed night lamp, upholstered seat, and desk table to give it an imperial touch of a suite.
At 44 Wood, we manufacture customized Wooden Bedroom Furniture. You can either shop online from our readymade collection or customize it with our joinery work to give your bedroom the complete feel of a suite.
3. Wooden Wardrobe
Like, in a living room, Sofa & TV Cabinets are the chief requirements; similarly, in a bedroom, a bed & wardrobe are vital.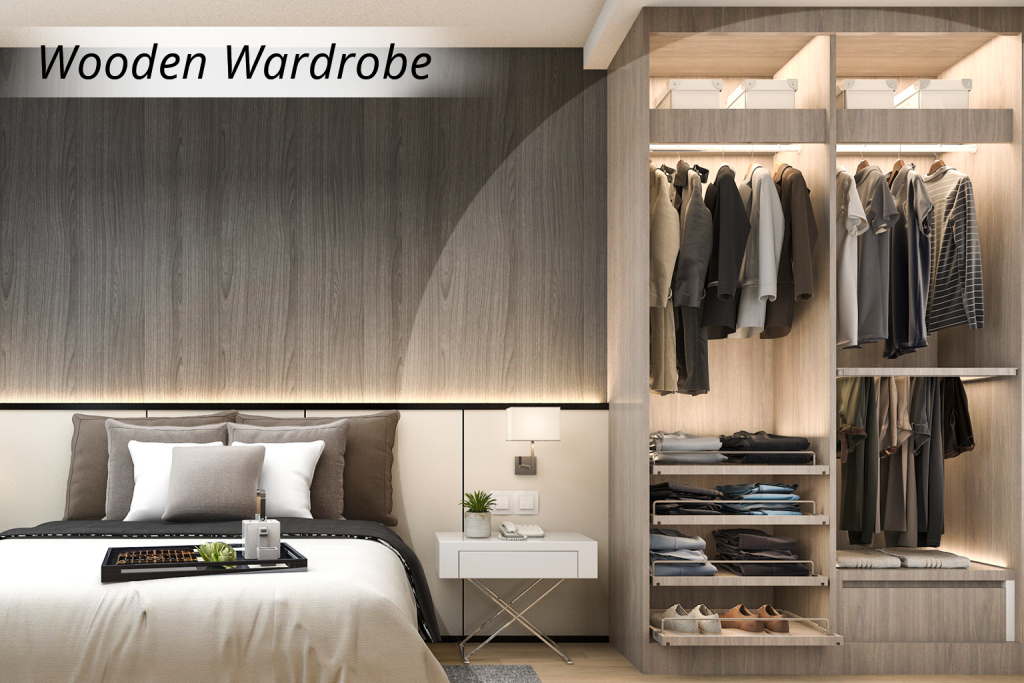 The wardrobe is one of the critical parts of a bedroom, and to make your bedroom look more significant in size and dimensions, opt for a built-in sliding wardrobe or freestanding sliding wardrobe over hinged wardrobes to make your bedroom look spacious.
We recommend buying a built-in that blends with the walls color of the room. It will make you feel there is a stunning design & striking texture wall over your wardrobe, adding an elegant & magnificent look to your bedroom.
With a built-in wardrobe, you can utilize the space for keeping other pieces of furniture like a side table, a mid-size desk, or a TV Unit.
At 44 Wood, we have an exquisite range of Wooden wardrobes elegantly crafted by the best Wooden Wardrobe Designers in Accra, Ghana, which you can shop online. You can customize the wardrobe according to your requirements & preferences.
Note: If your room is smaller in space, opt for a built-in furniture & joinery work Wooden Wardrobe for creating organised storage and keeping adequate space for moving.
4. Home Work Station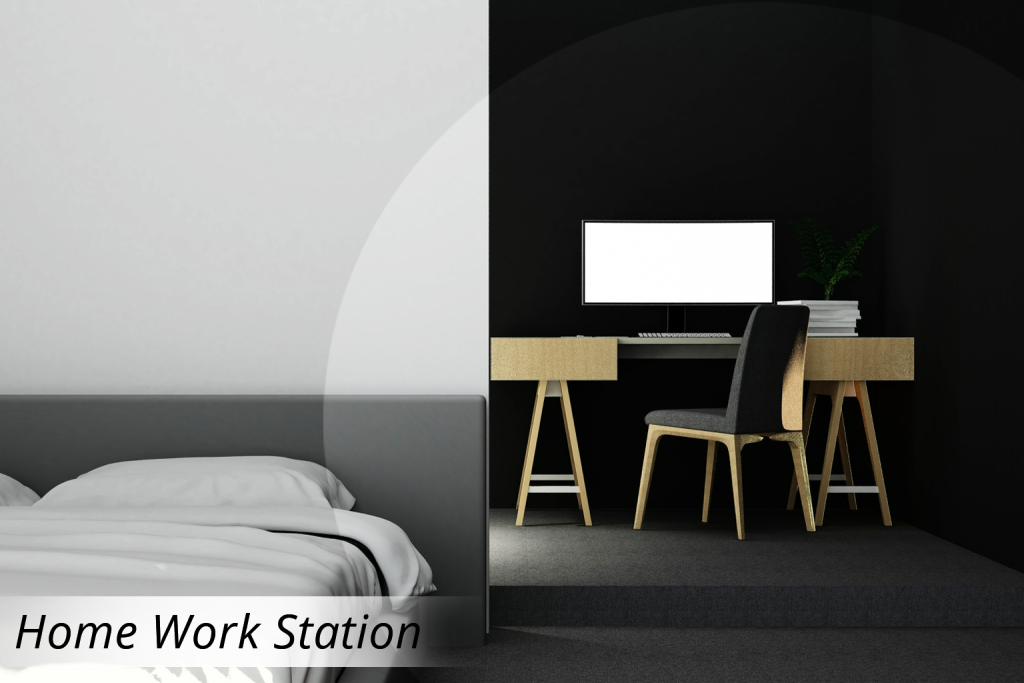 Post covid-19 hit in 2020, people prefer working from home, even after the offices re-opening. When you work from home, you need to have a dedicated space for your workstation that gives you warmly professional vibes.
If you have a spacious master bedroom, you can opt for a division within the room via a wall. On one side, you keep your bed, side table, and wardrobe; on another, you make it your home workstation.
However, if you have a small or mid-size bedroom, opt for a floating (freestanding) desk or a trestle desk that will consume lesser space, and based on the design, you can fold it when not in use.
At 44 Wood, we sell sophisticated and top-notch designs for Wooden desks that you can shop online from the readymade collection. However, if you want a customized desk, you can order it by booking a free project consultation.
5. Private Bath
Another crucial requirement after your bedroom is having a plush & imperial touch private bath for a mesmerizing royal shower every day to make yourself feel fresh and rejuvenated.
Whether you have a master bedroom or a small to mid-size bedroom, you must build a private bath whose entrance is within your bedroom.
You can keep your private bath concealed behind the dresser or use a mirror in the wall as the private bath door. It is one of the exceptional and ingenious private bath architecture.
6. Private Courtyard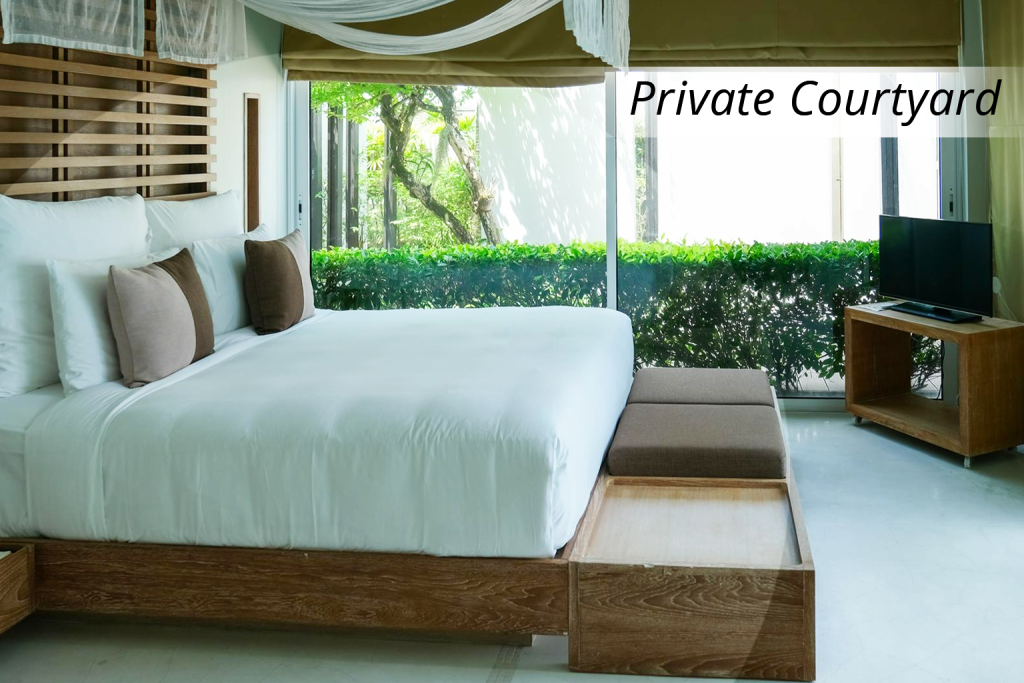 If you have a master bedroom, you must extend it to a private outdoor space (courtyard) concealed from the rest of the home. A private courtyard gives you a personal garden space where you can enjoy your me time and complete privacy.
Note: For the private courtyard, keep boundary walls and fences at a taller height, and the color of the walls should be the same or equivalent to the room color for an excellent blend.
It will give you a sense of impression that your room has become more extensive in size and you have a private extended space in the form of a garden without proper security.
Conclusion
After reading the blog, you will have firm clarity about the must-haves for your bedroom in 2023. However, if you have any questions, feel free to contact us. You can shop for bedroom and home furniture from our website.
We also manufacture customized wooden bedroom furniture according to tastes, preferences, visions, requirements, and needs. Book a free project consultation for customized wooden furniture or call us at +233592221787 or email at info@44wood.com.