In the modern-day world, numerous office and corporate desks are available in the market. The types of desks have increased gradually over time due to employees, businesses, firms, and companies requirements and needs for their workstations. Some prefer a cubicle-shaped workstation, while some prefer an L-shaped one, some prefer a trestle, and the list goes on.
The vast number of desks has made it challenging to decide which desk to buy for the office and workstation, giving you the utmost comfort & productivity. In this blog, we will walk you through 34 types of office & corporate desks to help you make an informed buying decision according to your purpose and requirement.
Types of Office & Corporate Desks
1. Writing Desk
Writing Desk is one of the most convenient, comfortable, and best desk for working from home and the office workstation. A writing desk has continued to gain popularity due to its features and benefits.
A writing desk has a flat surface specially dedicated to handwriting tasks. It is the best desk for corporate employees and even for students. Writing Desks has a drawer storage space, allowing you to keep writing pads, pens, paper, and office stationery.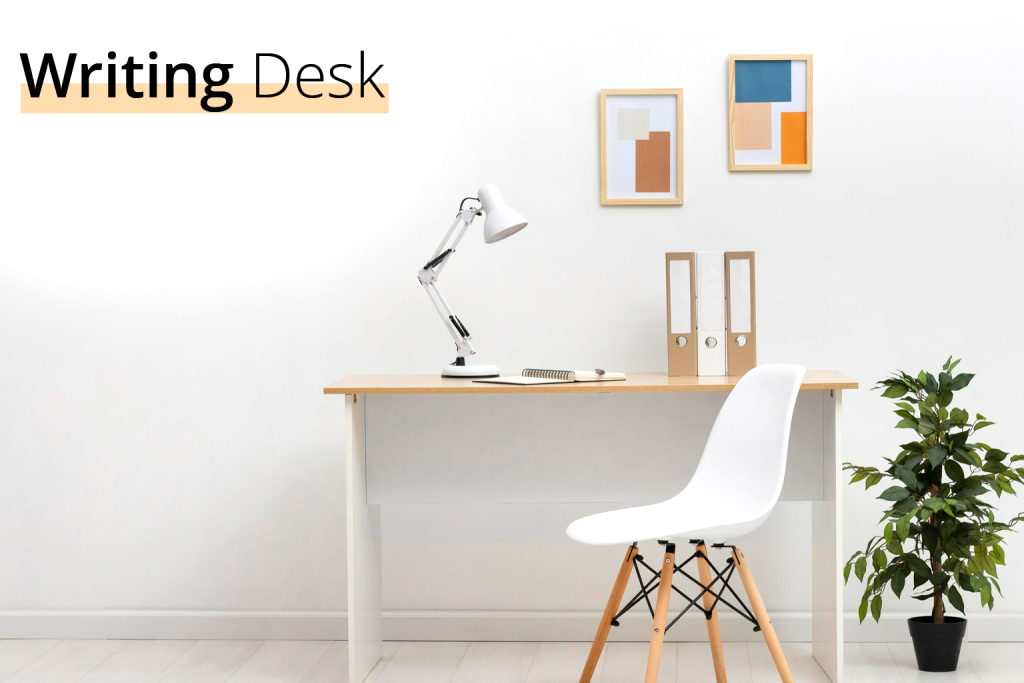 2. Credenza Desk
Credenza Desk is one of the ideal desks for home and office workstations available in the market. It has always remained in trend and is a top desk purchasing option.
A Credenza Desk offers excellent storage spaces that include drawers, cabinets, and shelves, allowing you to work and keep your essential office items accessible at your convenience and comfort.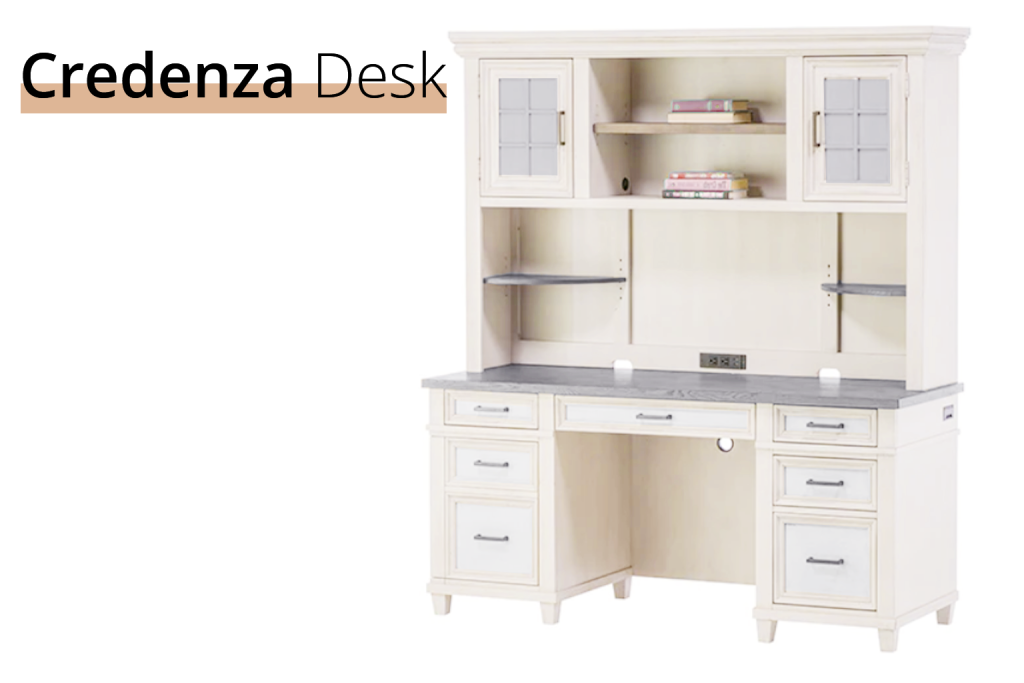 3. Carrel Desk
Need a personal cubicle workstation desk that is versatile for both home and office workstations? Carrel Desk is your one answer. It provides perfect desktop/laptop privacy and an ideal private space feel.
It has partitions at the edges that separate your desk from the co-worker's desk. It is best suited for offices where employees should have a private workstation and in public, private, and university libraries.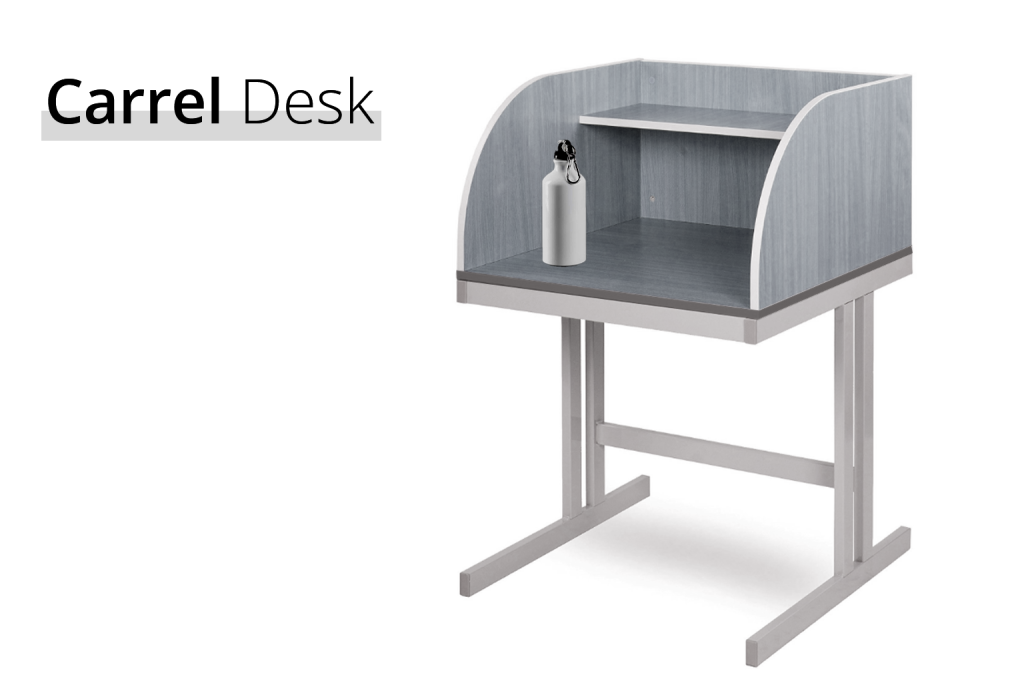 4. Trestle Desk
A Trestle Desk is a desk with a blend of contemporary style and finishing and traditional design. It has two legs and is designed in such a way that you can easily dismantle it.
A trestle desk is an ideal workstation for architects, designers, and people in the artistic field. It is an open-space workstation allowing multiple people to work on a particular idea.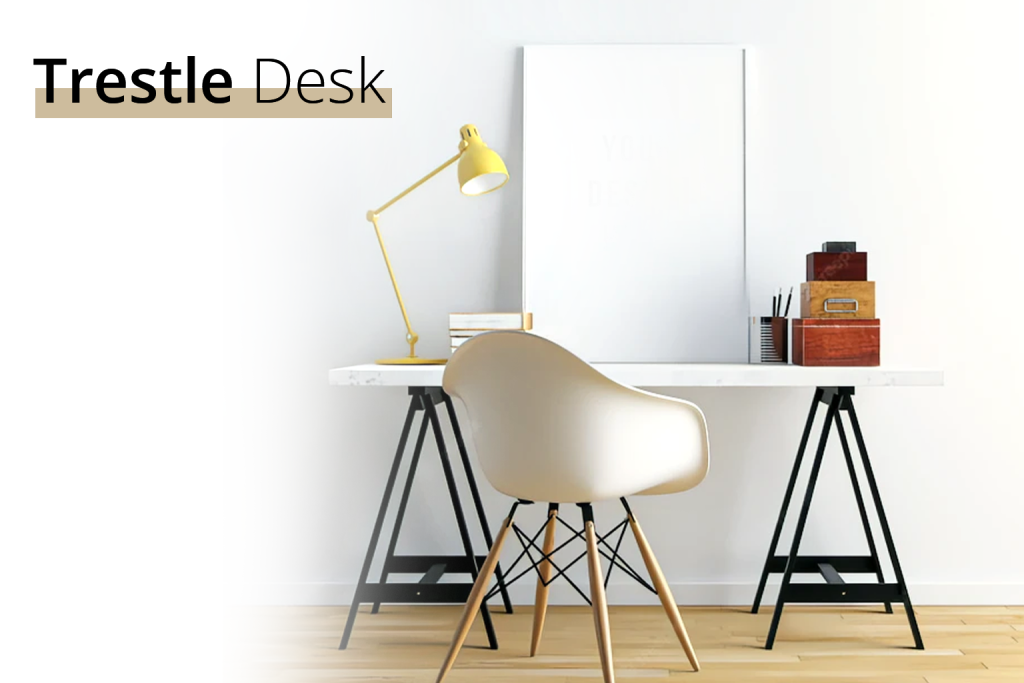 5. Floating Desk
Have a vacant space in the corner of your room at home or in the office? If yes, then occupy it with the Floating Desk and make optimal utilization of the desk space.
The best part about Floating Desk is that it has no legs and can be attached to the wall with hinges, allowing you to fold it after use. It is one of the best desks for ideal space-saving solutions and creating a multi-functional space.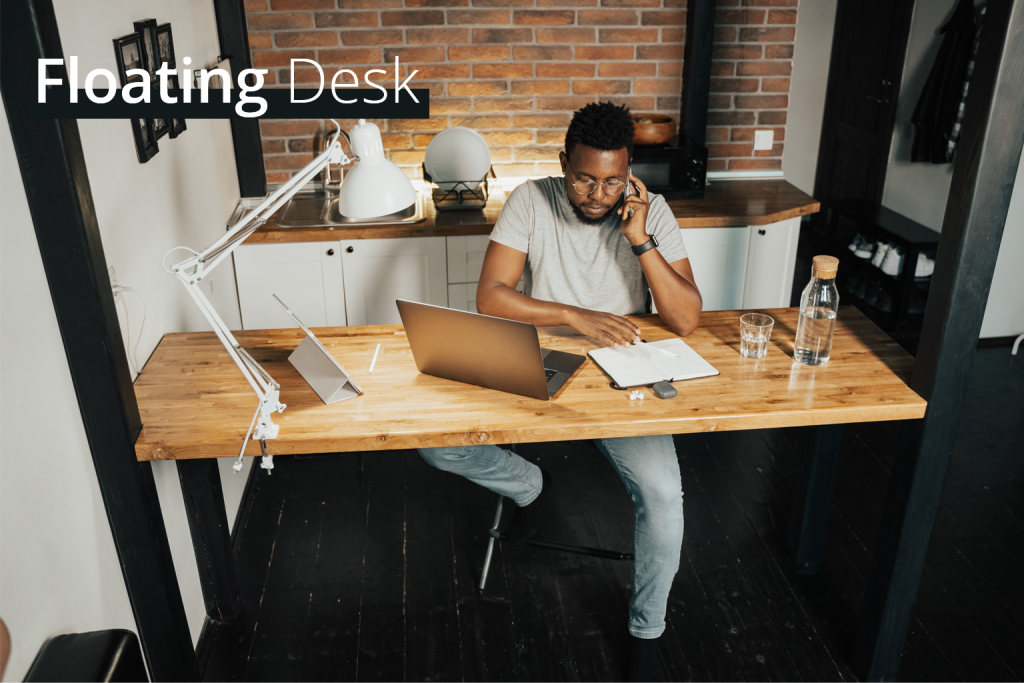 6. Roll-Top Desk
Roll Top Desk is the perfect desk for you if you are a traditional royal and aristocracy desk lover. The finishing, wooden textures, and design will give you imperial professional vibes.
It is a foldaway-style desk ideal for working from the home office. It is very easy to maintain the Roll Top desk by wiping it off with a wet cloth.
You have adequate space for keeping documents and files. This desk will boost your productivity while working at home and won't make you tired after a long day.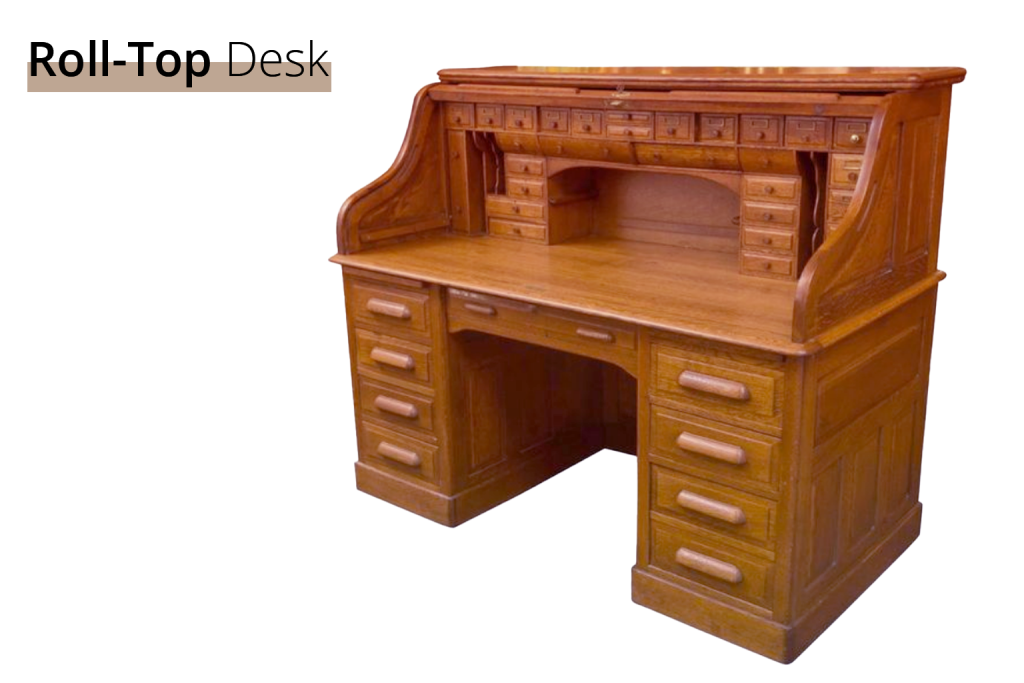 7. Lap Desk
Want a convenient and luxurious comfort desk? Lap Desk is a perfect desk allowing you to work by keeping the desk on your lap and work in luxurious comfort by sitting on your bed.
It is the best desk for people with disabilities and those who like to work from home with the ease of a sofa or bed. A lap desk folds out like a breakfast-in-bed tray, creating a comfy elevated desk space in your lap.
This desk is a getaway for you from sitting & working in one place the entire day.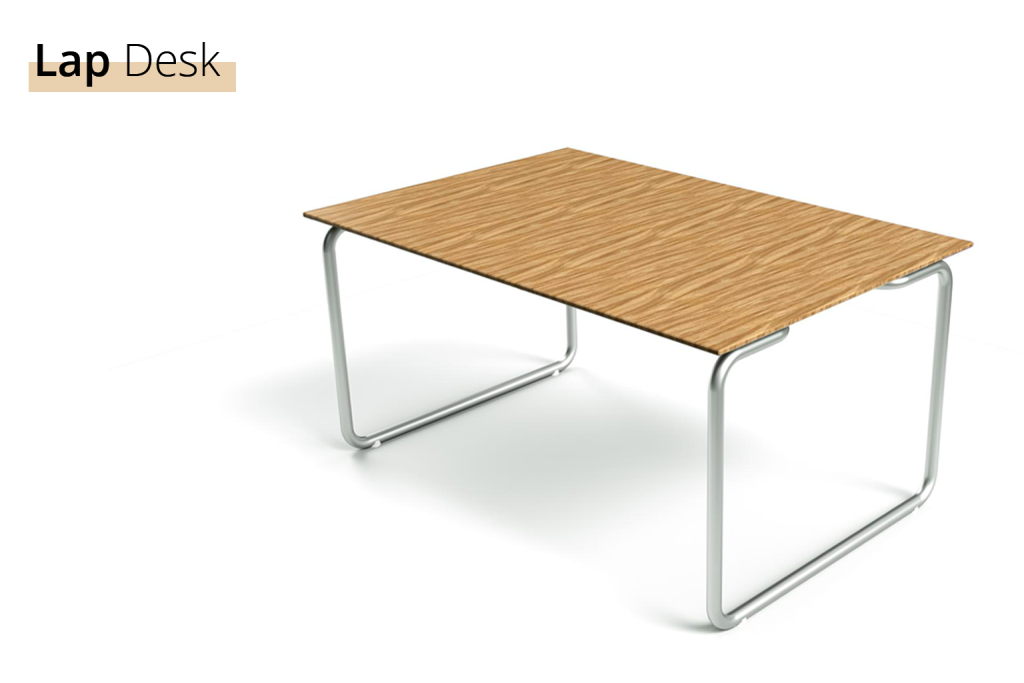 8. Lectern Desk
Lectern Desk has heard countless speeches, felicitations, anchor desks during event hosting, and the best real-world events. It is the most-seen desk at any event, especially while giving speeches and felicitations.
It is a tall standing desk, perfect for giving speeches and lectures in universities. The surface is slanted, making it easy to read out tasks and rest your reading materials without holding them in your hands and giving a sprain to your neck.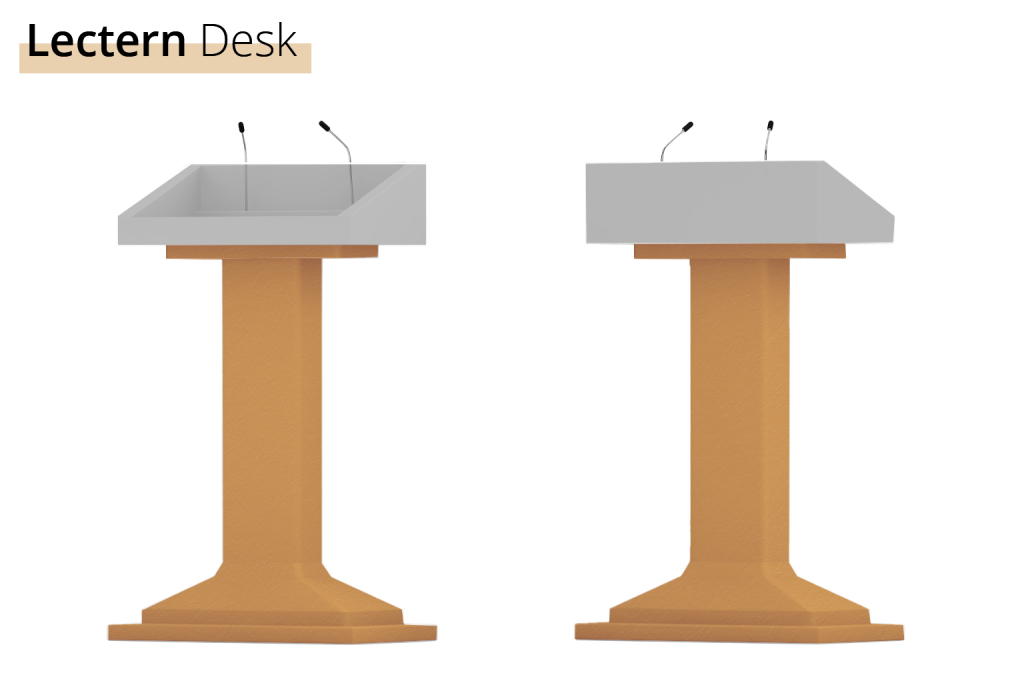 9. L-Shaped Desk
An L-Shaped Desk is a perfect desk for conveniently accessing items from both ends of the desk and allowing you to utilize both ends. It fits perfectly into a corner.
You can simultaneously work from home and pay attention to your kid's studies by occupying both ends.
You can use one end as a desktop/laptop desk and another for writing. It also provides adequate storage spaces like drawers and cabinets for storing office items.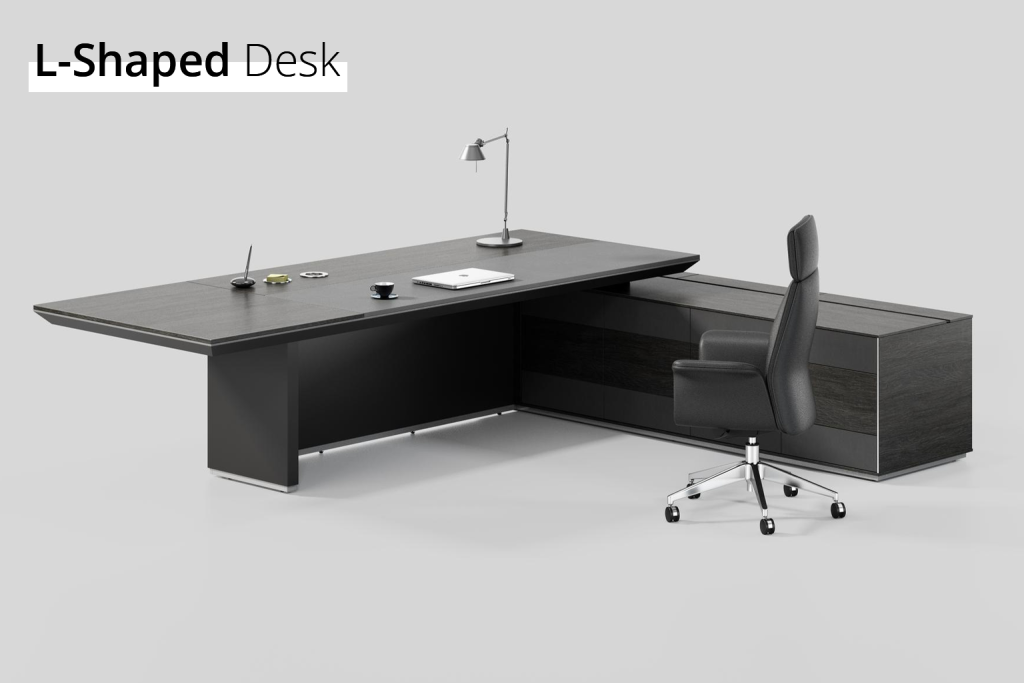 10. Ladder Desk
A ladder desk is a sleek contemporary desk built into a ladder creating a hybrid desk and shelving unit.
It is a perfect work-from-home desk because of its small footprint and excellent storage spaces for keeping books and stationery.
You can utilize one ladder for books and the other for office files & documents, making it convenient to access items at one stretch.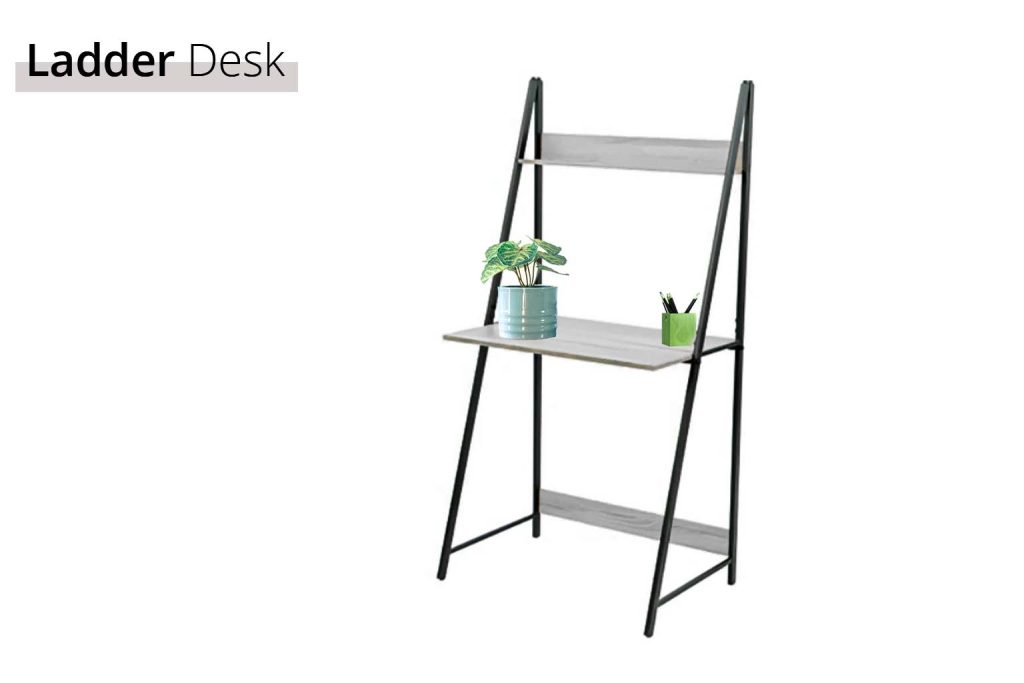 11. Kitchen Desk
Kitchen Desk is one of the best desks for people working in the restaurant & bar industry and those working from home looking to pay equal attention to the kitchen and work.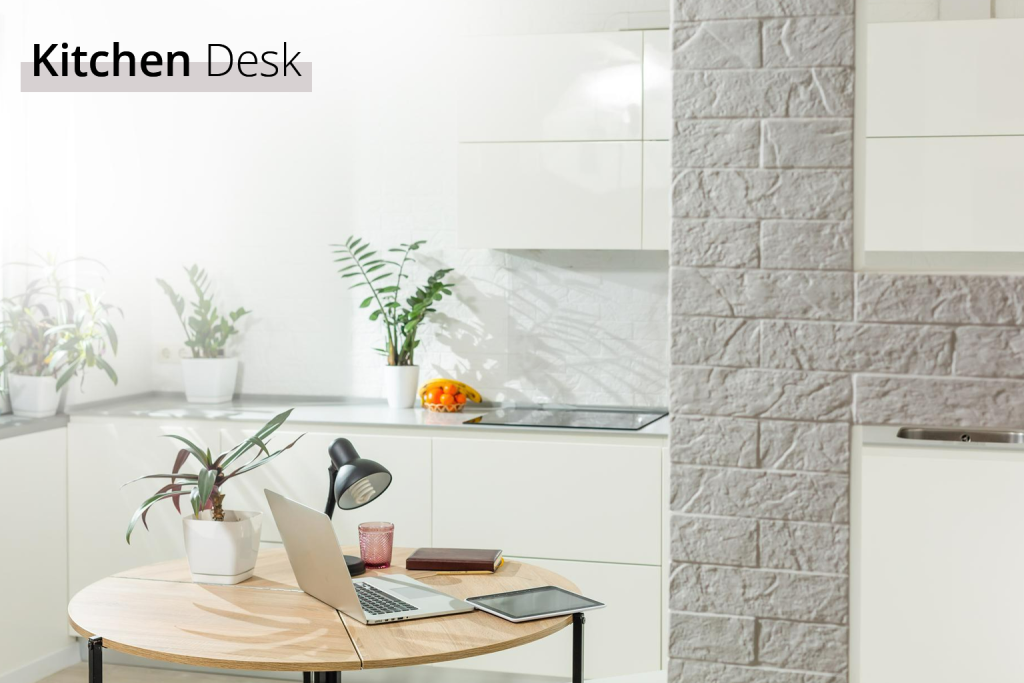 12. Executive Desk
An Executive Desk is an elegant, well-crafted, and opulently polished desk designed especially for executives. It is renowned for its significant storage space & file drawers, giving the executives a plush & professional ambience.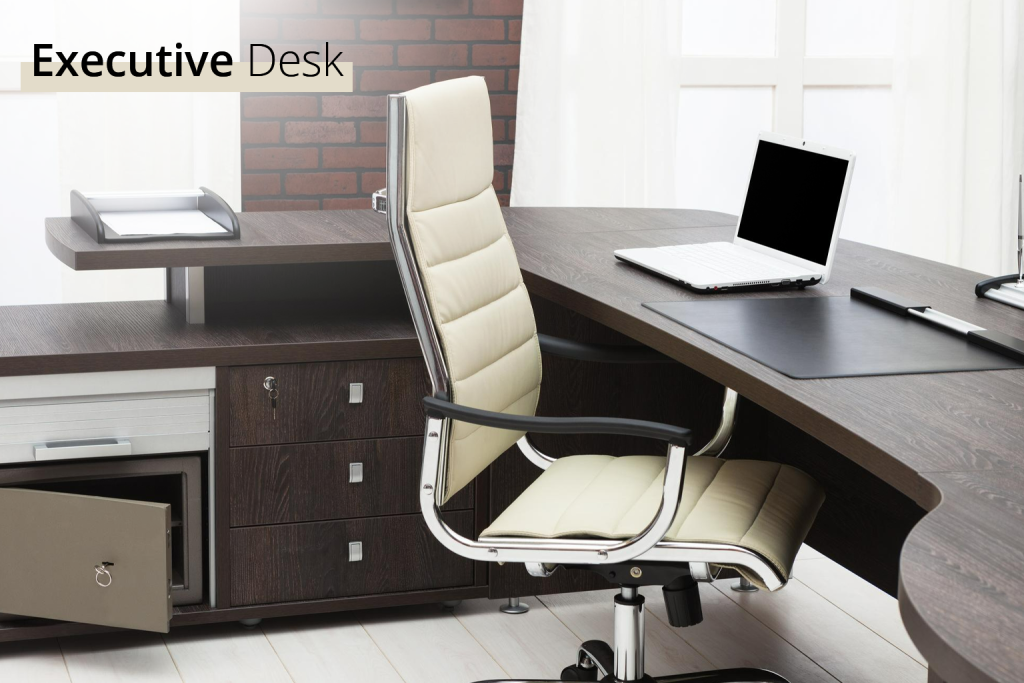 13. Secretary Desk
The Secretary Desk design looks similar to Carrel Desk, but they have a cabinet shape with a pull-down shelf for desktop space.
A Secretary Desk provides you fantastic flexibility of folding up when not in use, blending exceptionally well with the decor and making your workspace look organised.
A Secretary Desk is ideal for saving space and multi-functional furniture.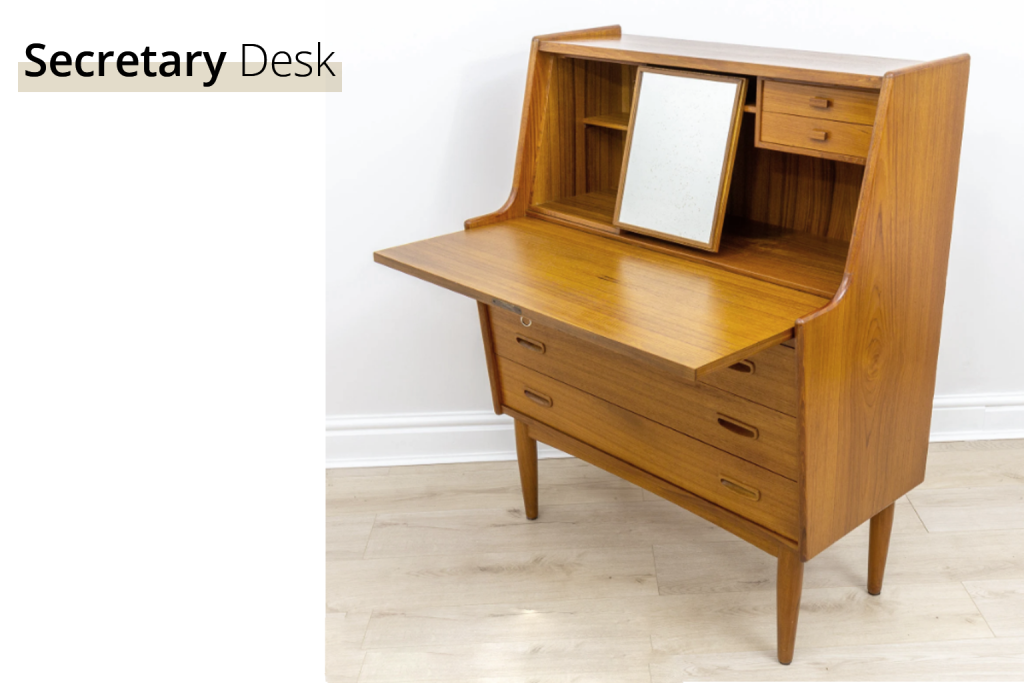 14. Dual-sided Desk
If you want a collaborative workstation, a dual-sided desk is a perfect option for you. It is primarily used in office space for architects, lawyers, accountants, managers, and even work-from-home office setups.
It has two desks attacked sharing legs, allowing to save space and working in simultaneous communication.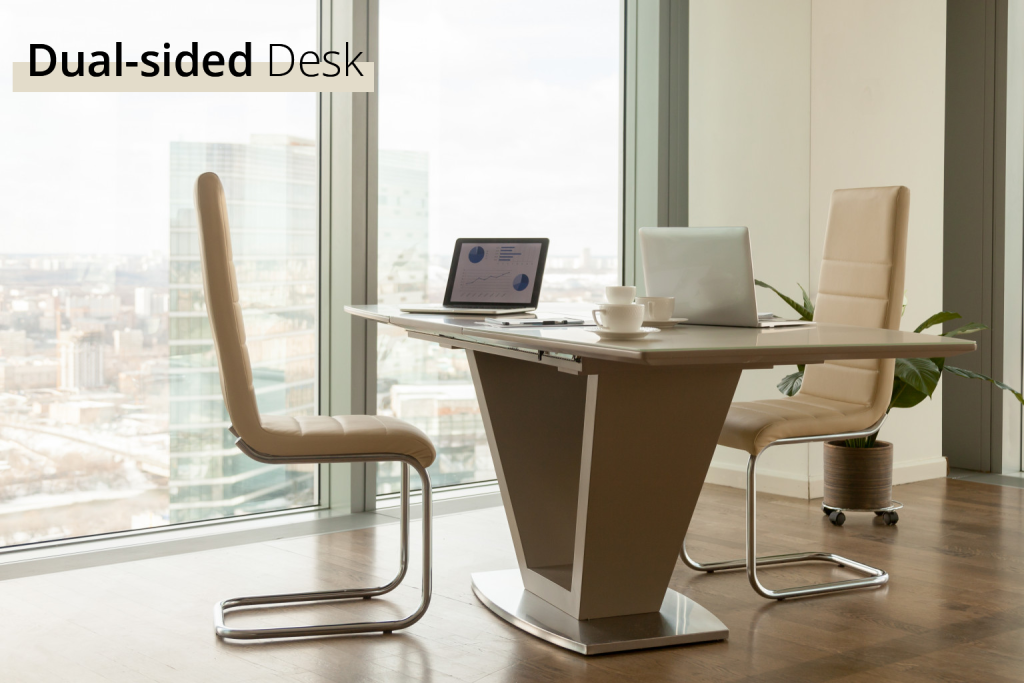 15. Standing Desk
Standing Desk is a chic and fascinating design desk in the modern-day working environment.
Standing Desks are adjustable, allowing you to work at optimal height levels. It enables you to work sitting or standing, alleviating lower back pain and keeping energy levels high during work.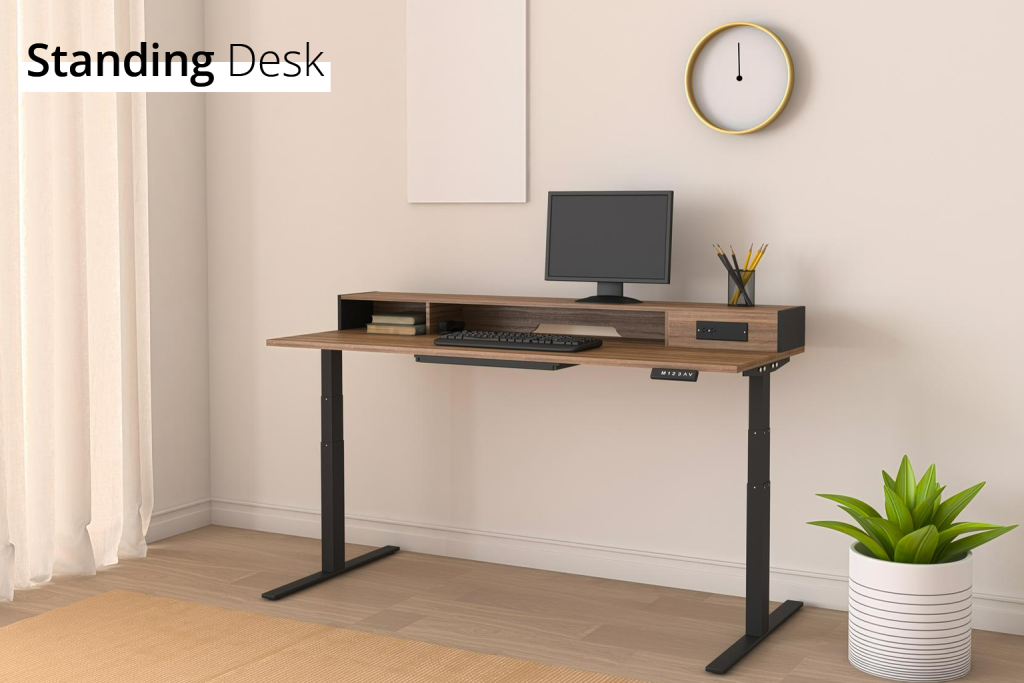 16. Corner Desk
Corner desks might look similar to an L-Shaped Desk, but they fit perfectly into the corner of a room, providing an excellent space-saving solution. You get adequate space on both sides for keeping documents, files, office supplies, desktop/laptop, coffee mugs, and more.
What makes a corner desk different from an L-Shaped desk is that it doesn't have a square edge and instead has a corner piece that gives exceptional comfort and convenience when seated facing the corner.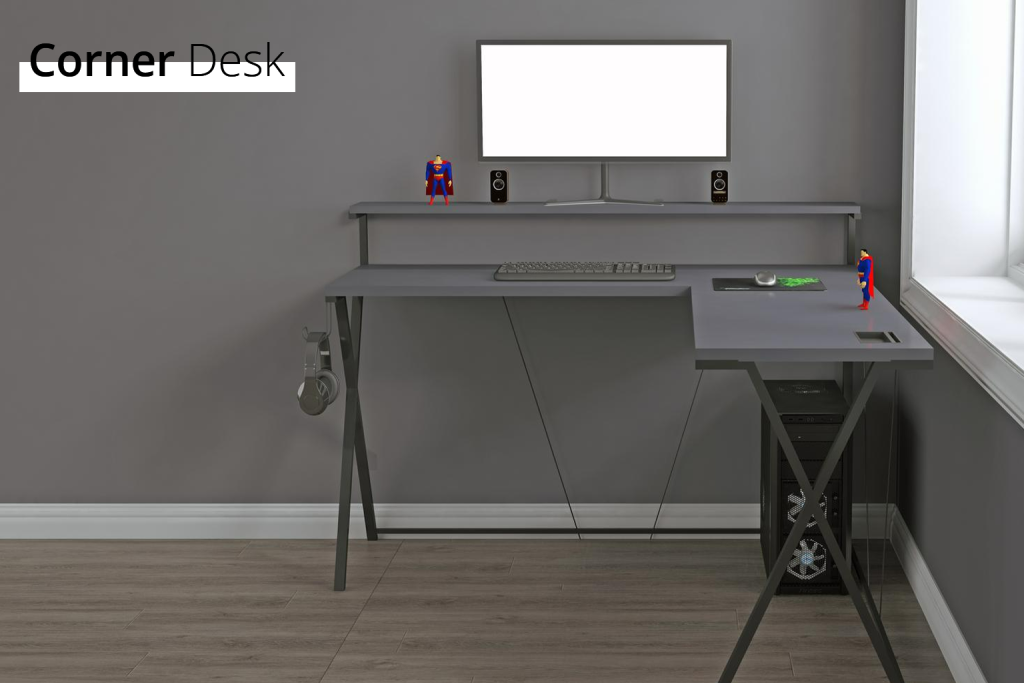 17. Treadmill Desk
In the modern-day era, people are concerned about their fitness, and sitting at one work desk for hours can lead to health problems and dizziness.
A Treadmill Desk is the perfect solution for those employees who want to work and stay active & fit simultaneously.
A Treadmill Desk is like a conventional treadmill with a built-in workstation and operation controls for the treadmill.
Become a multi-tasker and burn off calories simultaneously with Treadmill Desk.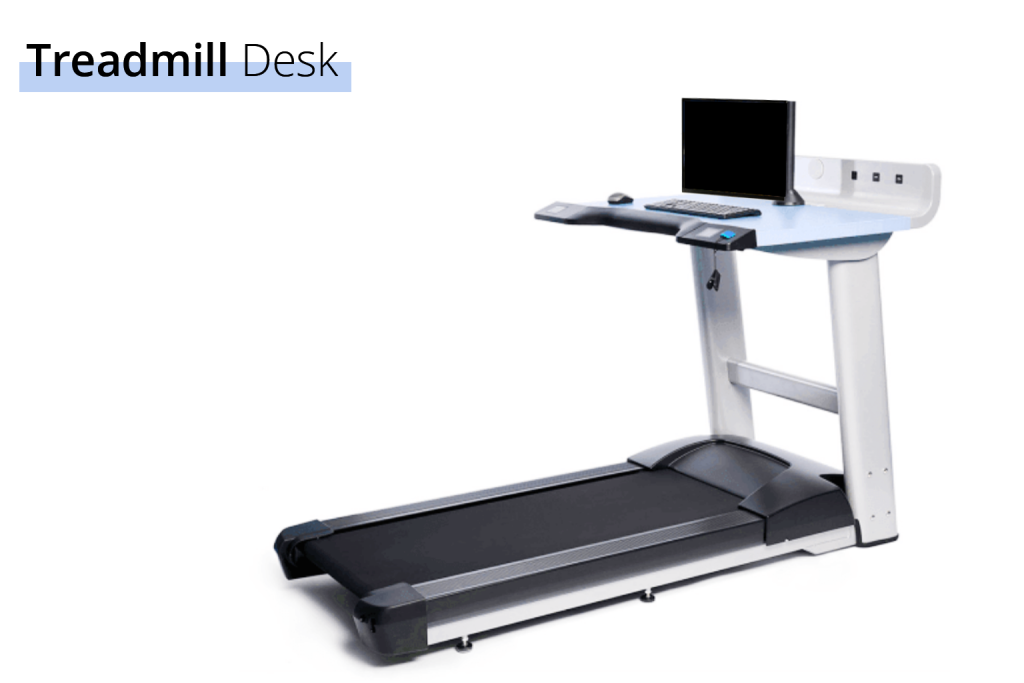 18. Vanity Desk
If you are working in the fashion, makeup, or film industry, Vanity Desk is the perfect desk for you.
It is a multi-functional desk that can be used as a working desk and dressing table. You can use a small bench or stool for sitting.
If you own a beauty or makeup salon, you must opt for a Vanity Desk.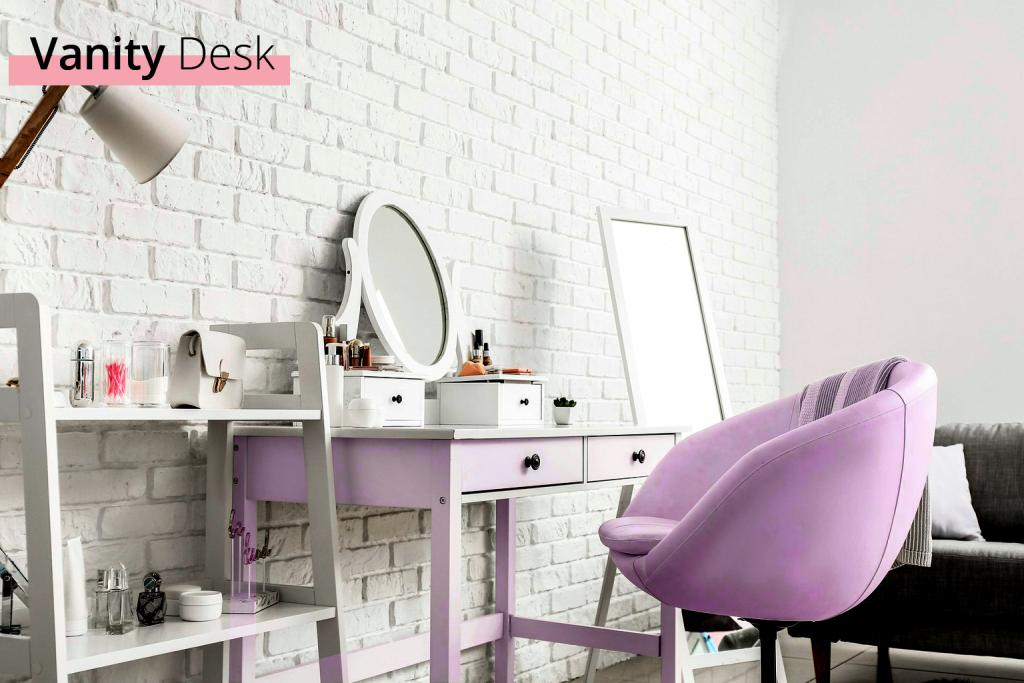 19. Telephone Desk
A telephone desk is a grandfather-era desk, commonly known as an antique desk in the modern-day world.
It provides adequate space for an old-school telephone, for writing notes, or for signing & stapling papers. It is a small end table with a chair attached according to your requirement.
A Telephone Desk is an extension to the reception desk, mainly filled with multi-level tasks.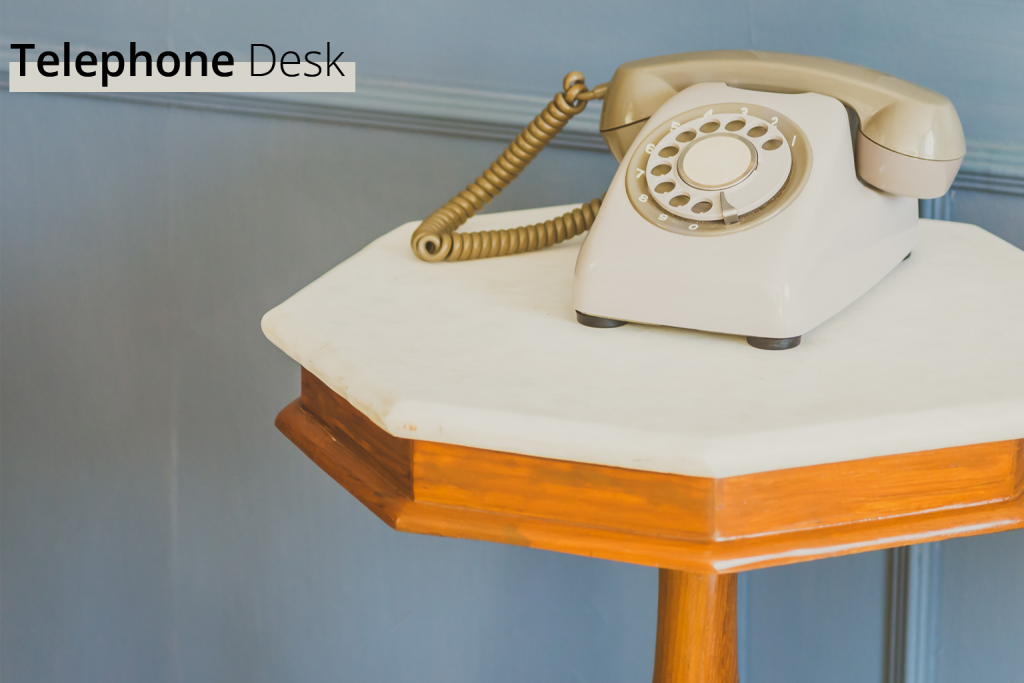 20. Reception Desk
One of the busiest desk in any office & corporate world is a Reception Desk. A Reception Desk is a multi-level desk that facilitates communication with visitors and has adequate space for a desktop, sign-in sheet, and office supplies. And at the same time, it gives the receptionist privacy while allowing interaction with the office guests.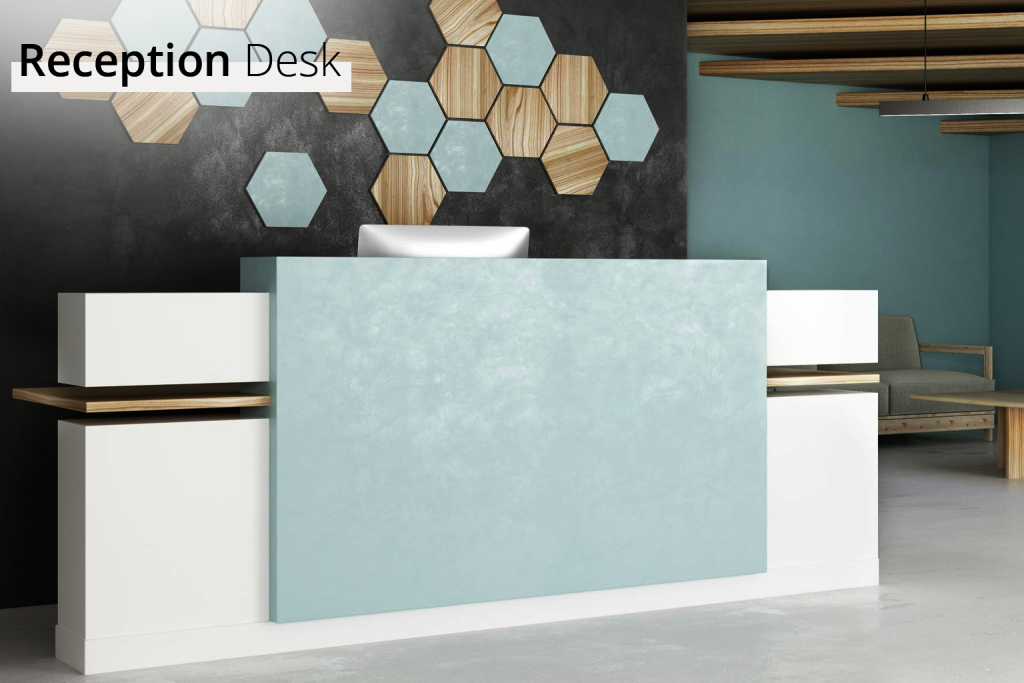 21. Butler's Desk
Butler's Desk is a traditional design & shape desk with a set of drawers, folding down top shelf for storing files and documents. It is primarily used for editing documents & files, writing ledgers, and administrative tasks.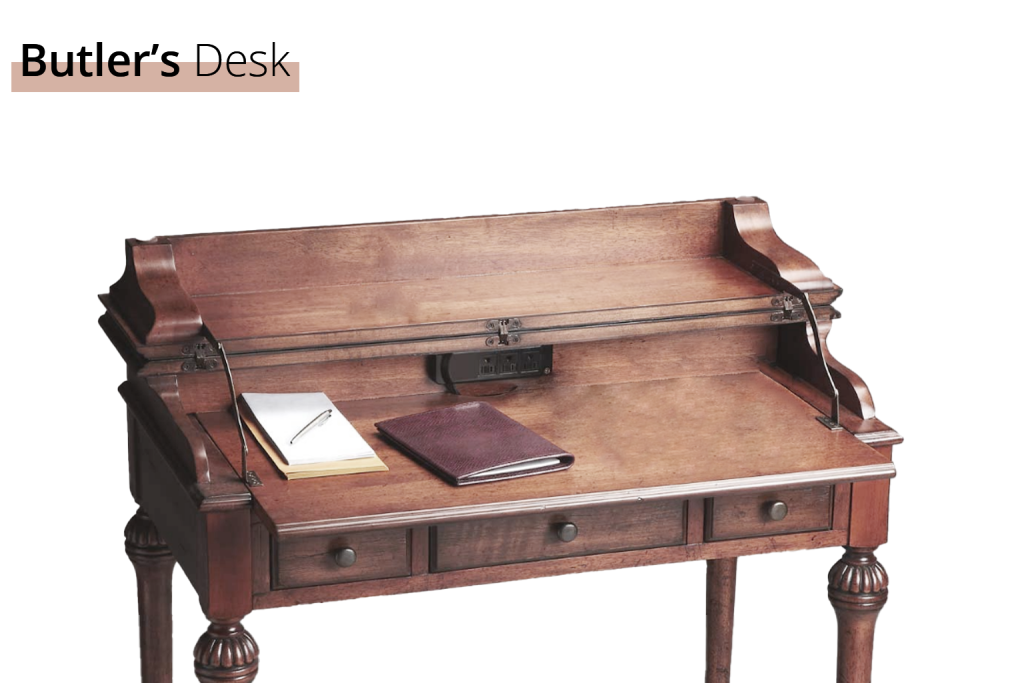 22. Armoire Desk
Imagine your almirah getting turned into your workstation. Isn't that cool? Armoire desks allow you to keep your workstation like an almirah which you can close and open like an almirah, without making your workstation look like a desk and keeping it concealed.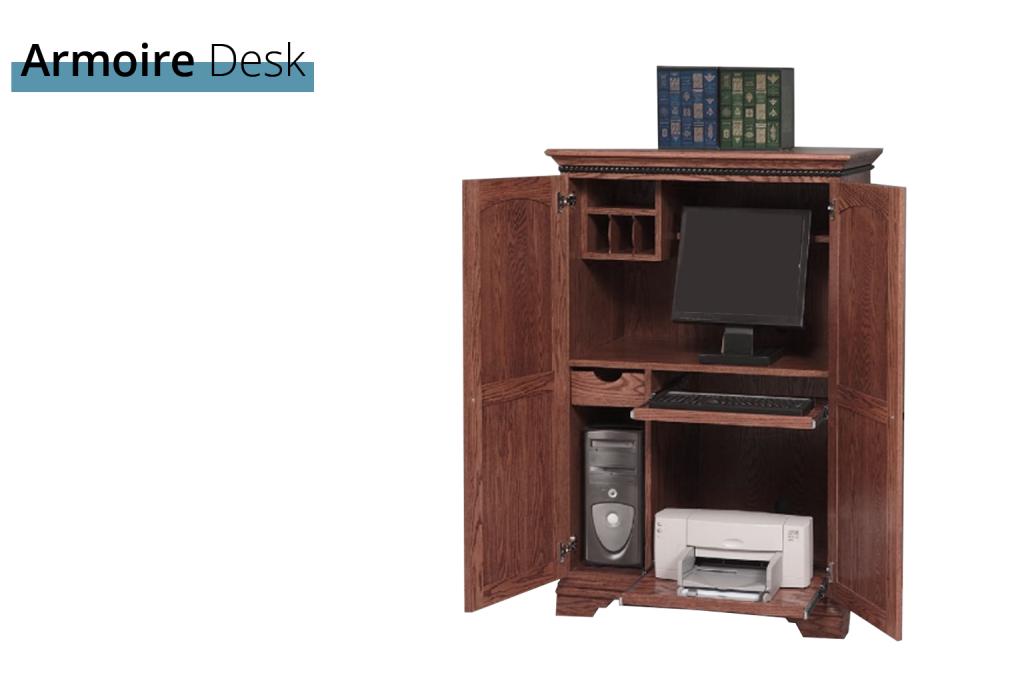 23. Bow-front Desk
Bow-Front Desk is often called a mixture of an L-Shaped Desk & an Executive Desk. A Bow-Front Desk is an ideal desktop workstation with a curved edge that hangs over the user, giving more writing space.
It is a perfect desk for those who prefer making notes while working on a desktop.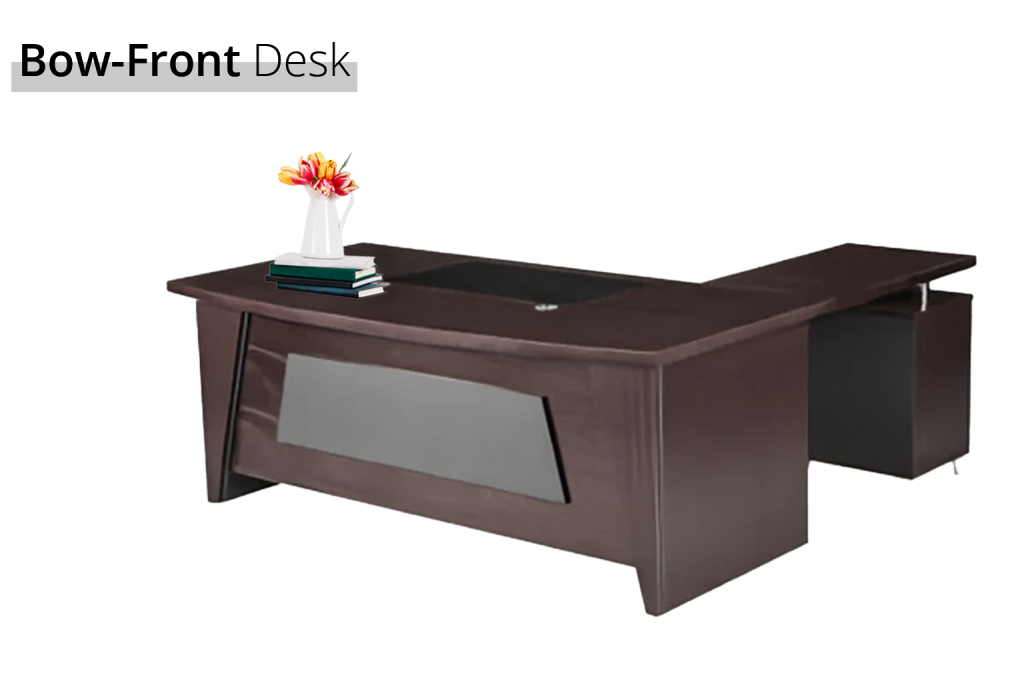 24. Murphy Desk
A Murphy Desk is a perfect work-from-home desk, especially for remote workers, without occupying much space in an office. It is a pull-down desk attached to the wall via hinges. It is an excellent space-saving solution as you can fold the desk when not in use.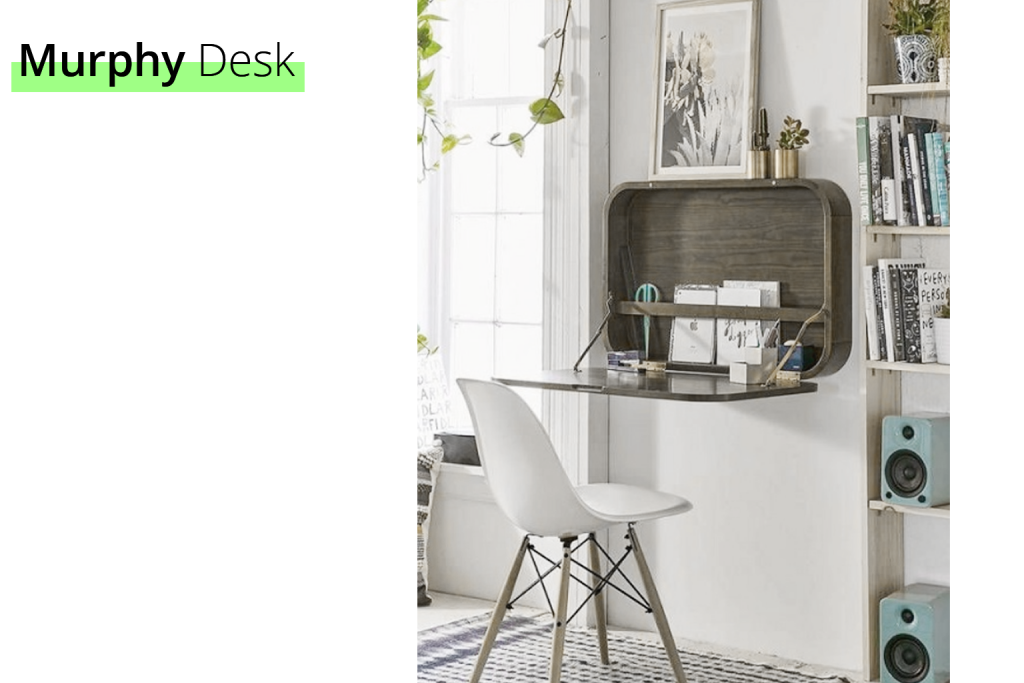 25. Circular Desk
A circular desk is one of the most social, collaborative, and excellent communication-enhancing desks that keep the team engaged and strengthened communication.
Workers sit in a circular position with adequate working space and communicate with colleagues on a project.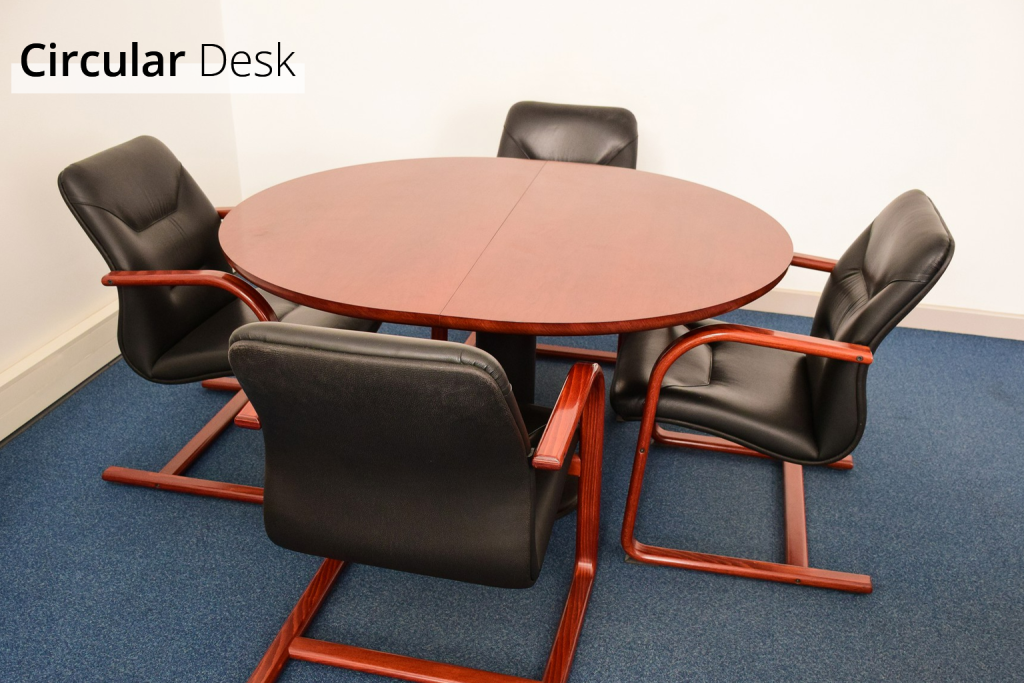 26. Peninsula Desk
If you want a desk with significant storage space in the form of cabinets, then Peninsula Desk is the perfect option for you. It is attached to a return with drawers from the middle of the shelving unit. It is an ideal desk for those who want a workstation and cabinets for keeping office supplies and personal shelves.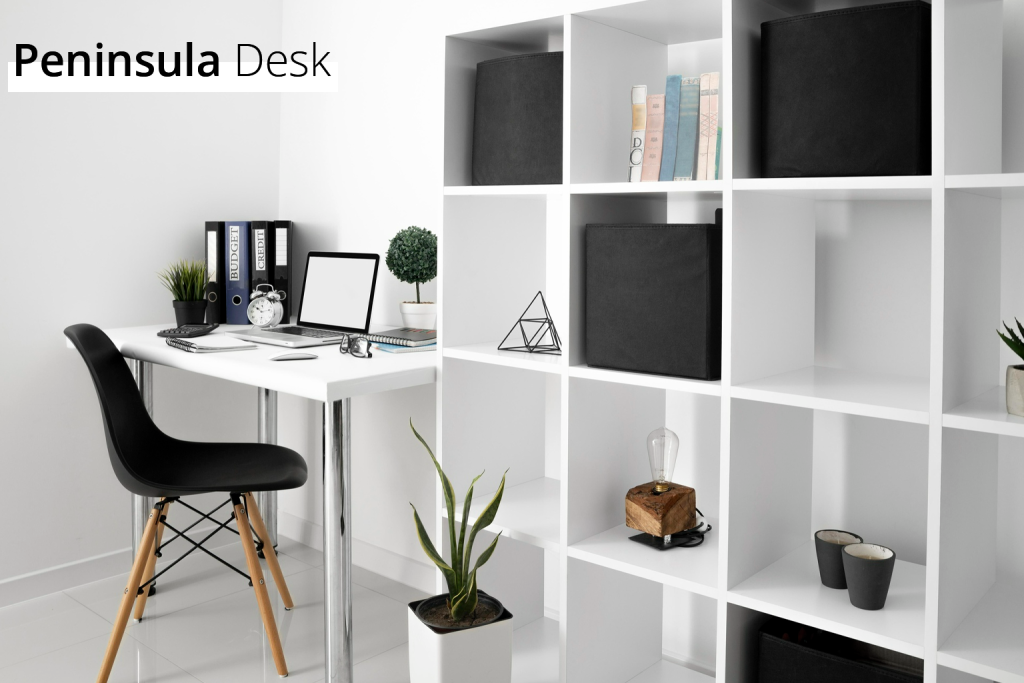 27. U-Shaped Desk
A U-Shaped Desk is found in many offices that allow a small team to work in U-Shaped Workstation, having their dedicated space for working.
It combines the features of a Credenza desk and a bridge to provide a wrap-around workspace. The bridge connects the front desk to the back of the desk. It has a shelving or cabinet unit primarily on the corners.
This desk is preferred by high-level executives and offices with small teams.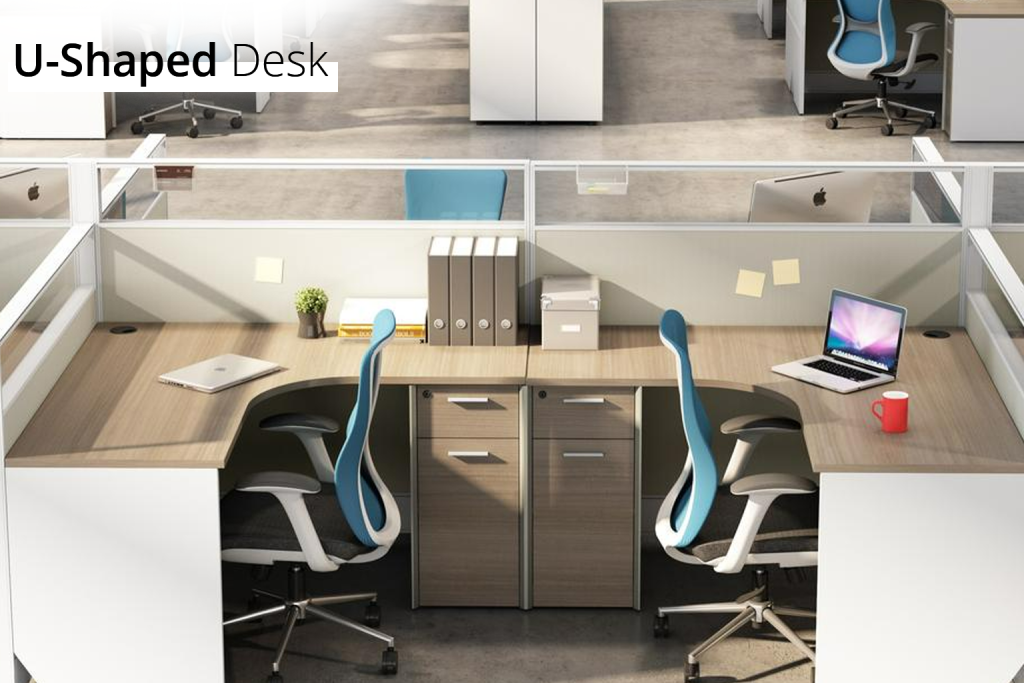 28. Bench System Desk
Many employees want the vibing of the school bench as they find it productive for their workstations. A Bench System Desk provides the school bench vibes and creates a healthy collaborative workspace.
It is an extra-long size desk that facilitates several desktops and chairs, allowing a team of employees to work together in coordination at a single desk.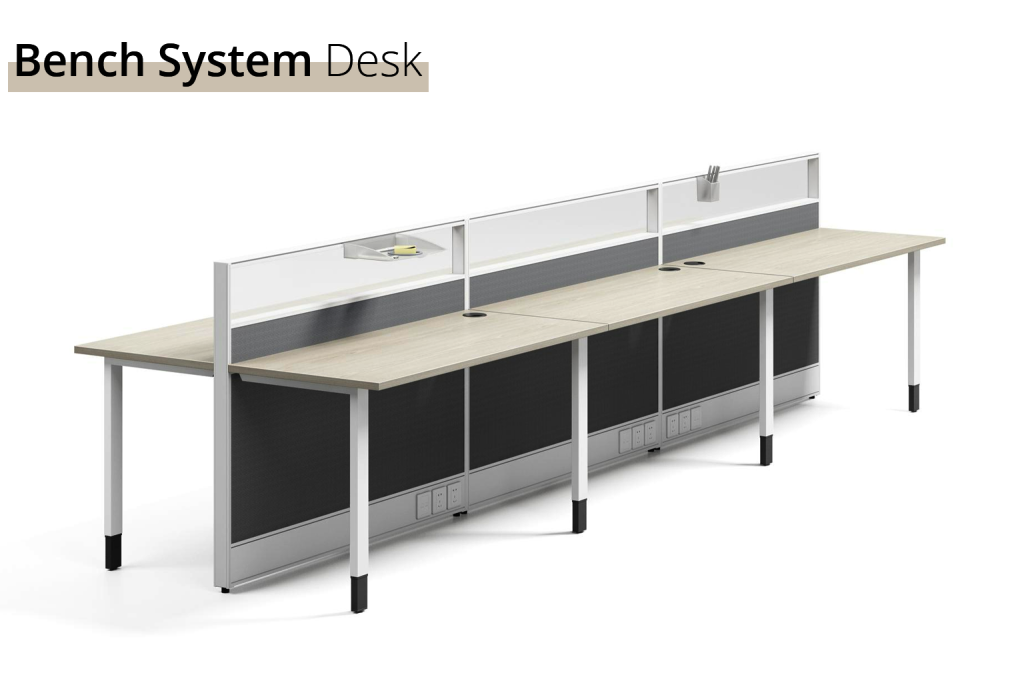 29. Wave Desk
Another contemporary style desk with a stylish look & avant-garde design is a Wave Desk. A wave desk gives a curved front to the desktop, making it deeper on one end than the other.
It helps keep the body ergonomically aligned & provides excellent support for the dominant hand.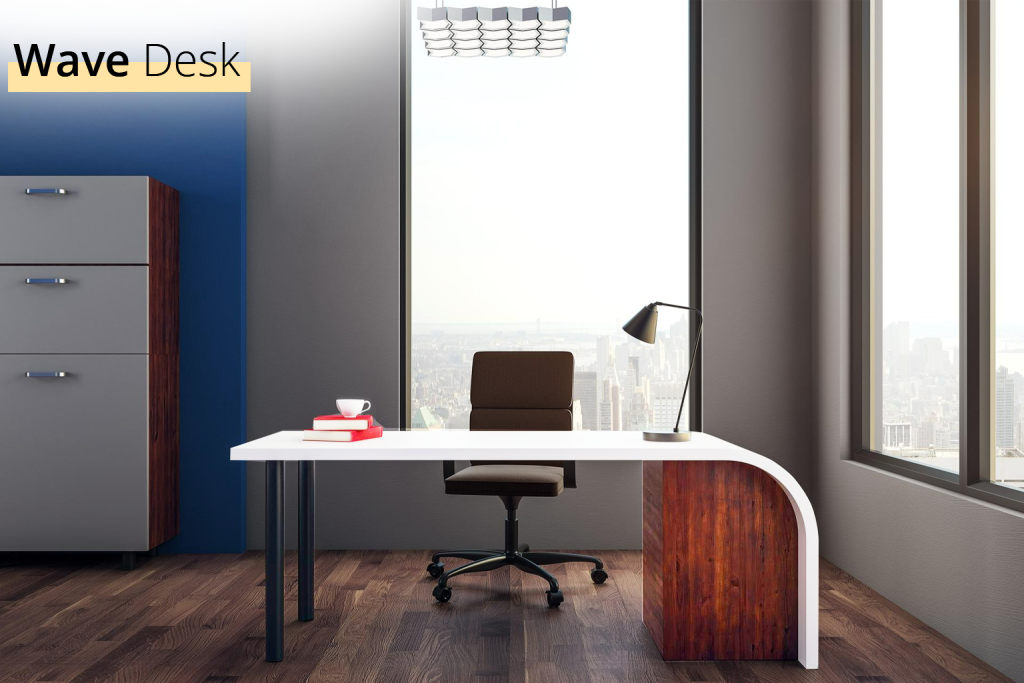 30. Wood Desk
If you want a classic, timeless, & grandfather-era wooden texture desk for your workstation, a wood desk is an excellent choice.
Wood Desks are primarily for those who want an aroma of wood and a warm ambience in their office and home workstation. Wood Desks are durable, robust in strength, all-weather resistant, and the wisest investment.
rimarily for those who want an aroma of wood and a warm ambience in their office and home workstation. Wood Desks are durable, robust in strength, all-weather resistant, and the wisest investment.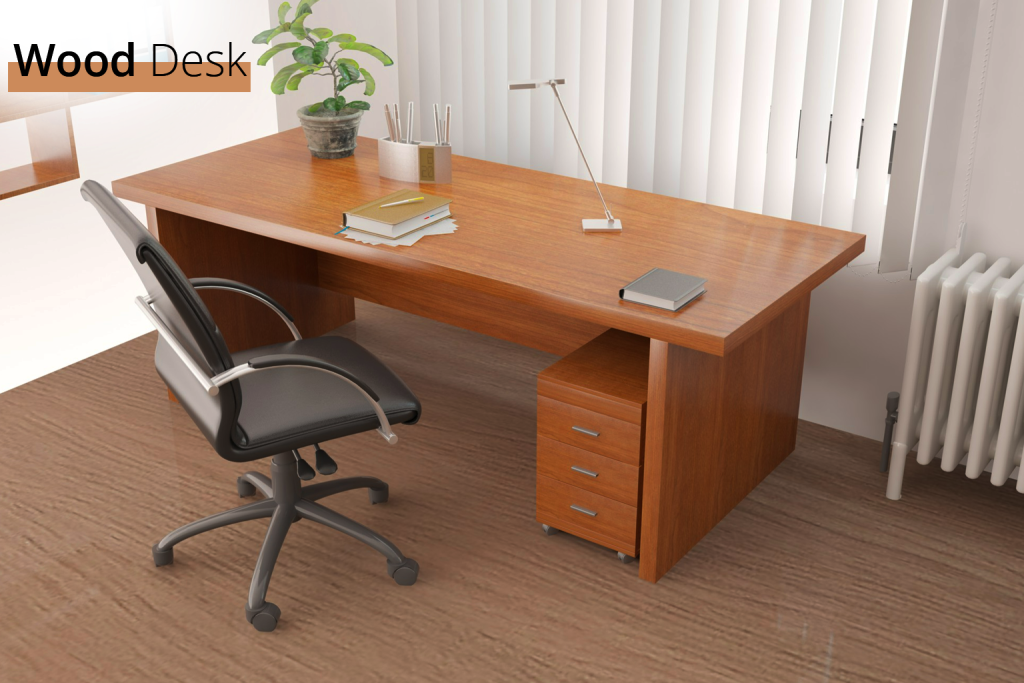 31. Workstation Desk
If you want communal office space or an open-plan professional vibing workstation, then Workstation Desks are an excellent investment option.
It allows you to place multiple desks in one area, keeping the team in coordination and allowing private space for the employees through dividers between desks.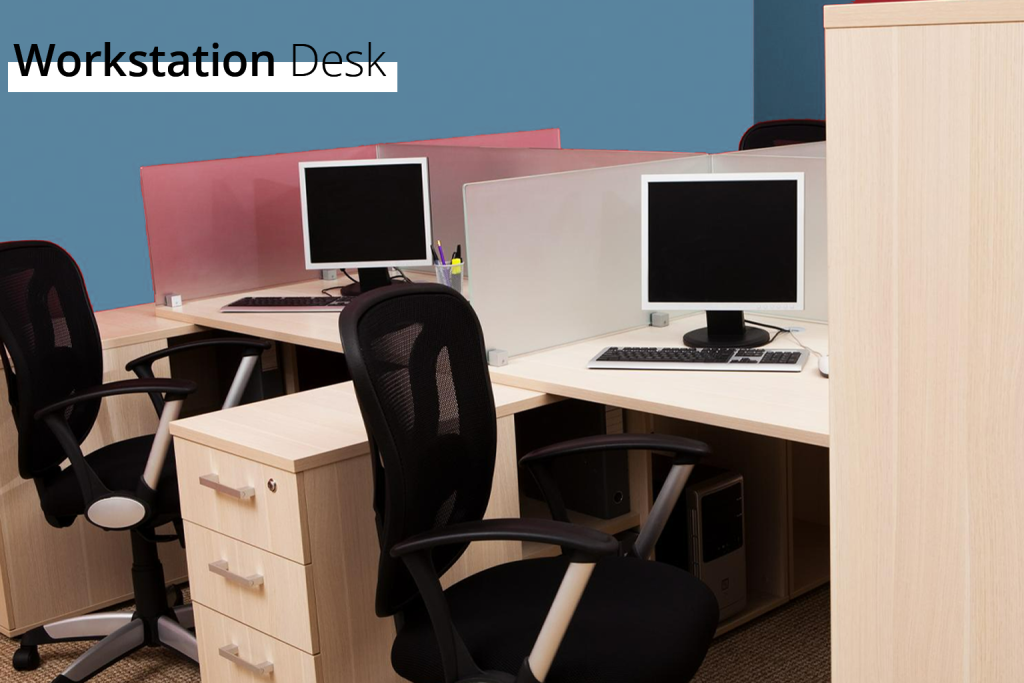 32. Gaming Desk
If you are a gamer and want to club your workstation and gaming zone together, then a gaming desk is the best option.
Gaming Desks come with adjustable height options allowing adequate space for monitors, speakers, consoles, gaming accessories, and more. It is a stellar desk for combining a workstation and recreational gaming activities zone.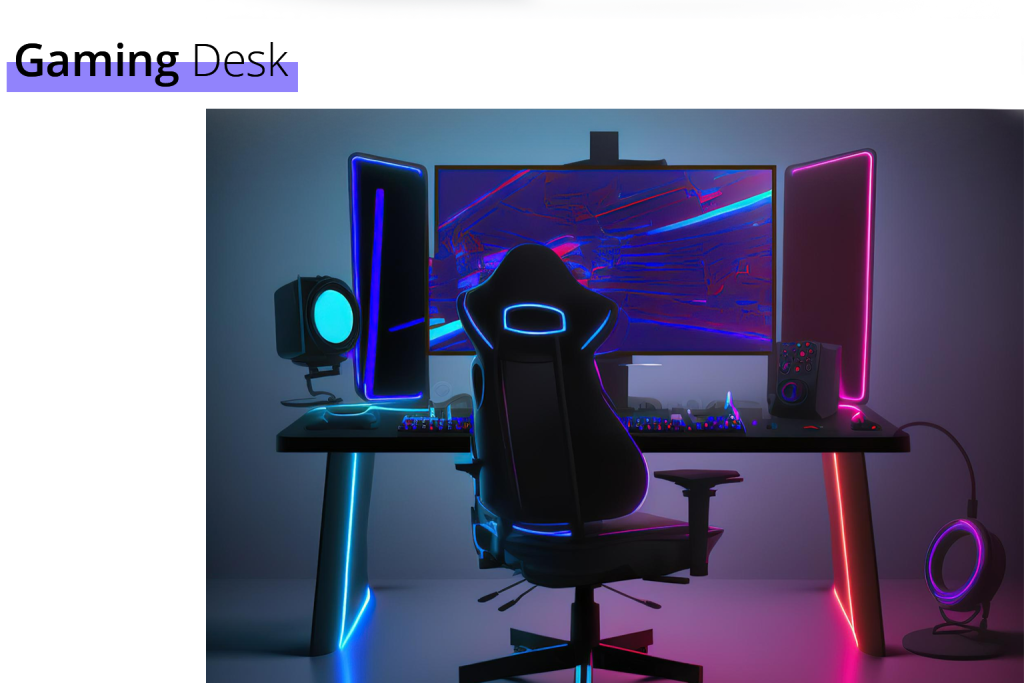 33. Metal Desk
Metal Desks are one of the oldest types of desks and are still preferred in today's world of wooden furniture. What makes metal desks stand out in the market is their durability, freestanding, and easy-to-move properties.
However, metal desks react quickly to the change in weather. If it's winter, the desk legs and surface will become, and in summer, it will be hot.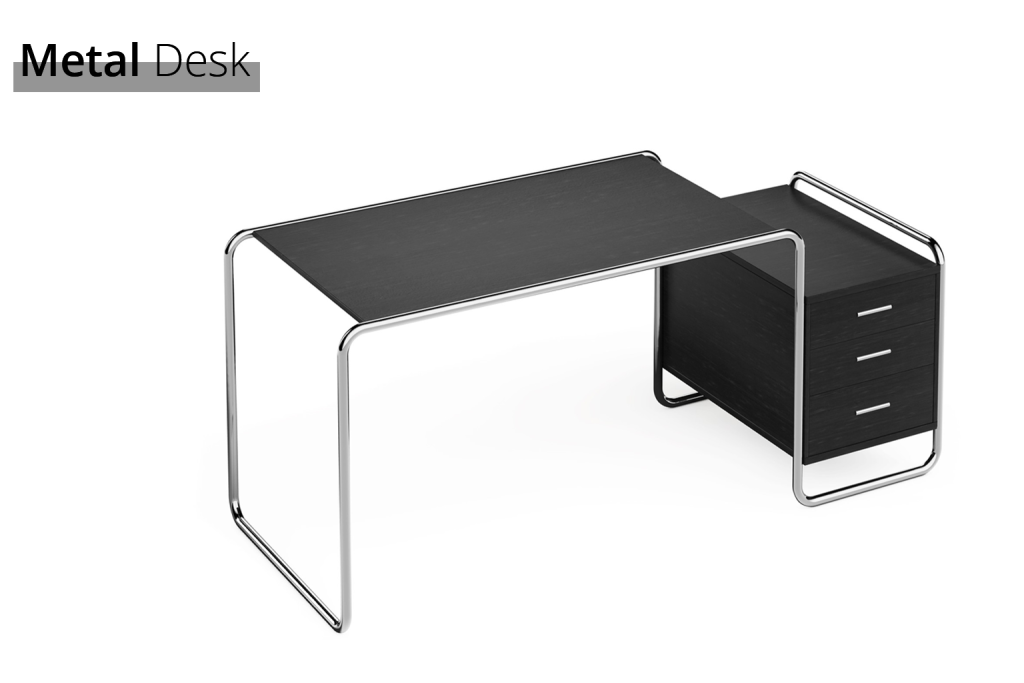 34. Computer Desk
Last but not least. Computer Desks are one of the prominent types of desks and are among the highest selling desks and suit the needs of almost every employee working on a computer. A computer desk comes with the following features for ease of use:
Cupboards for monitors
There is a separate section dedicated to the cupboards for monitors for concealing monitors, cables, & computer accessories, or else it will be evident underneath the desk.
Computer stands
This section is dedicated to making computer screens more visible and preventing neck strain. This feature is primarily sold externally (separately).
Built-in holes for cables
This section keeps your desktop space clutter-free from desktop cables and makes the workplace look organized.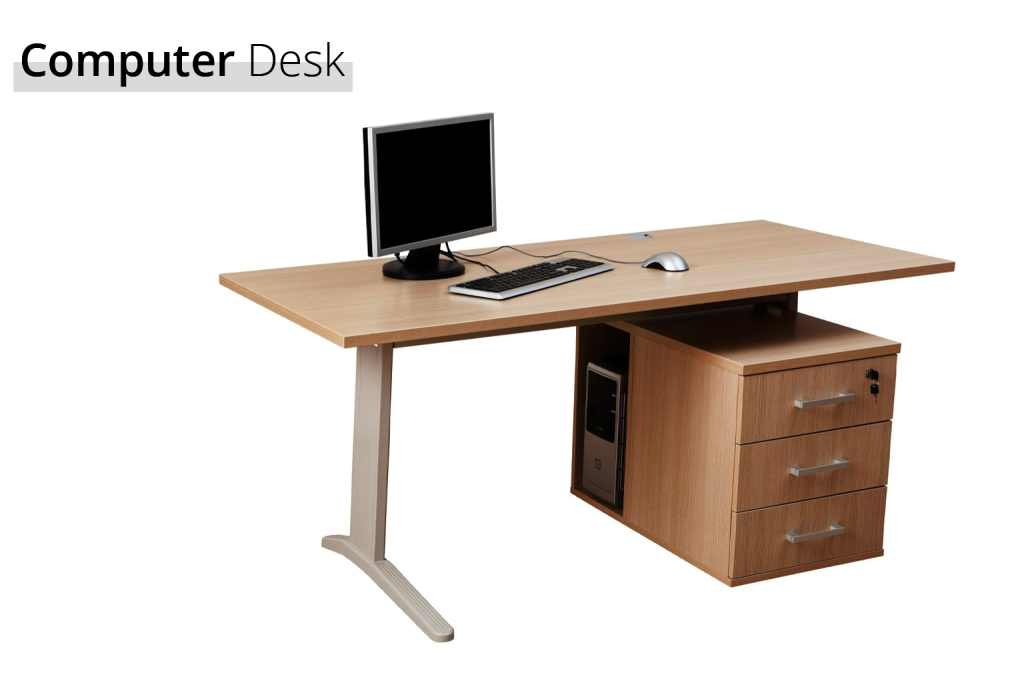 Conclusion
After going through the blog, you will have a comprehensive & brief idea about 34 types of office desks. At 44 Wood, we sell one of the pre-eminent quality & stunning designs of Wooden Desks. You can shop online from our readymade collection.
However, if you want to buy any of the 34 types of desks mentioned in the blog, contact us, and we will customize it according to your requirement. We have the best wooden furniture designers in Accra, Ghana, who will customize any of the 34 types of desks that you are looking to buy.
We are available via call at +233592221787 or email at info@44wood.com.