A messy kitchen always creates a headache image in the mind as we are confused about which stuff is kept where and chaotic situations in some scenarios. Hence, it is a must to keep your kitchen organized to make it look clutter-free and helps you save time in searching for different stuff as you are clear in your mind which thing & equipment is kept where.
Having an organized kitchen means you don't have to clean the cabinets & drawers daily and will enhance your kitchen productivity. Your kitchen food products, spices, and food ingredients will stay fresh.
For an organized kitchen, you must keep your pantry sorted by installing organized kitchen drawers for storing different products & equipment.
In this blog, we will walk you through the 20 best ideas for spice racks for keeping food spices & ingredients organized and clutter-free.
20 Best Ideas for Spice Racks
In this list, you will find multiple ways to store spices, and you can select the ones that fit your kitchen dimensions, requirements, and needs. E.g., Rotating spice racks are ideal for small kitchen spaces and multi-tier spice racks that need minimal counter space & best modern wall solutions by doubling as kitchen decor.
The following are the spice racks ideas:
1. Two-Tier Turntable Spice Rack
This is one of the efficacious spice racks that ensures your whole spices collection is accessible in a lazy Susan-style spice organizer. It suits perfectly in tiny cabinets. Being a nonskid turntable, it is easy to assemble, robust and rotates smoothly.  At 44 Wood, it is available in different wooden textures according to your tastes & preferences.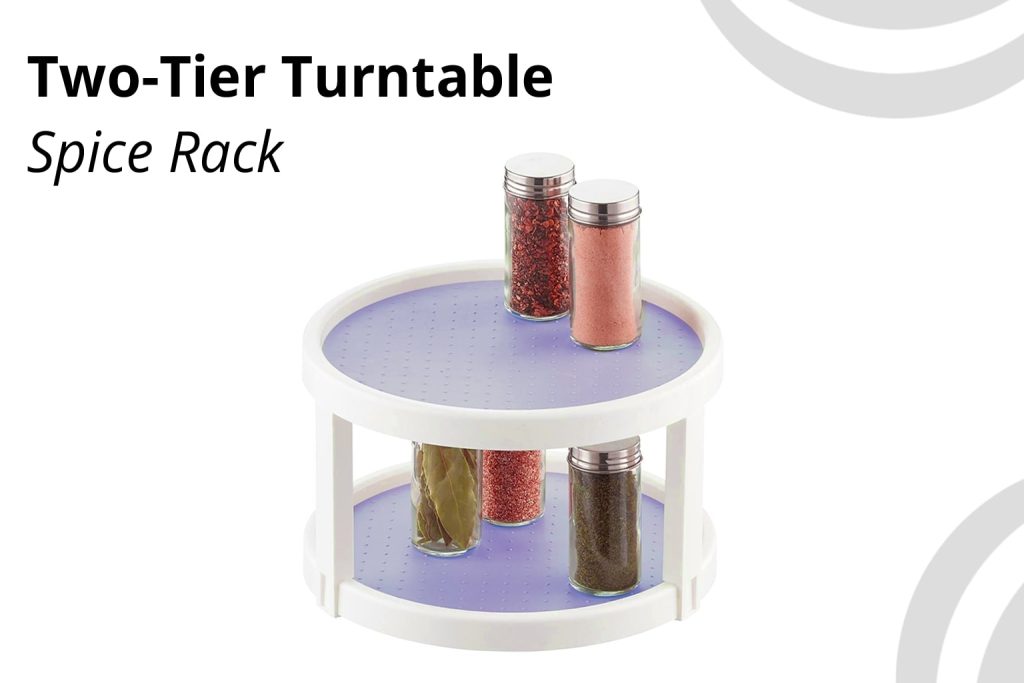 2. 20-Bottle Acrylic Spice Rack
This is one of the most aesthetically pleasing types of Spice Rack that comes with fitted clear jars with custom labels. At 44 Wood, we customize this rack according to your bottle size requirements & custom labels of your choice.
You can fit this rack on an open shelf that we will customize according to your kitchen dimensions, filling your kitchen with our finest handwork.+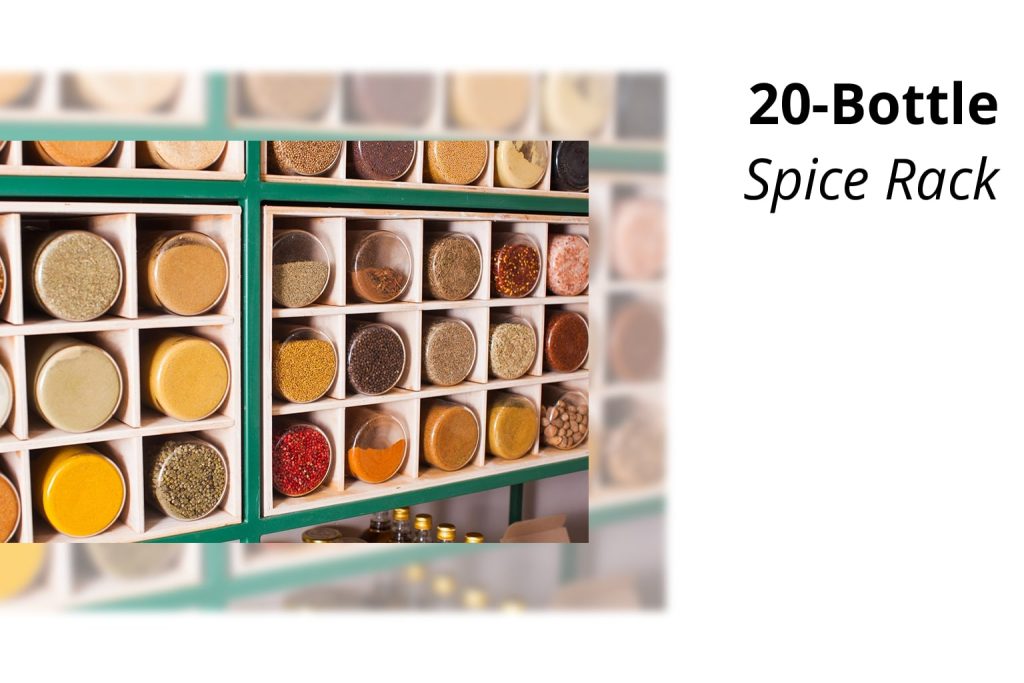 3. Three-Tier Expandable Seasoning Shelf
This is one of the easiest spice racks to assemble without any hardware. The three-tier shelf expands from 12.5 to 15 inches, depending on your kitchen dimensions and requirements, which will perfectly fit into your kitchen space.
At 44 Wood, we customize this expandable seasoning shelf to store up to 36 spice jars according to your requirements & needs. The mesh board is robust in strength and sturdy to keep the spice jars secured from falling.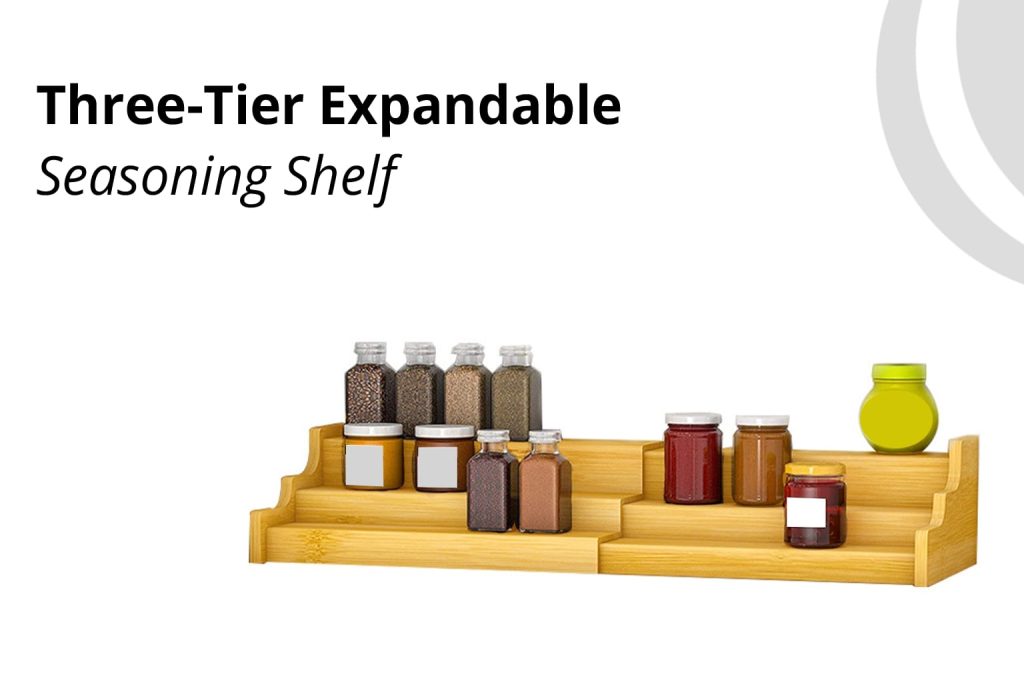 4. Classic Wooden Texture Three-Tier Spice Rack
At 44 Wood, we manufacture an exquisite range of spice racks, and this three-tier spice rack is a classic wooden texture work that will end an imperial look to your kitchen shelves. The touch of rustic wood adds an enchanting look to your kitchen counter.
It can hold up to 30 spice jars and is customizable according to your requirements & needs. It also comes with a wire basket & two hooks for additional storage.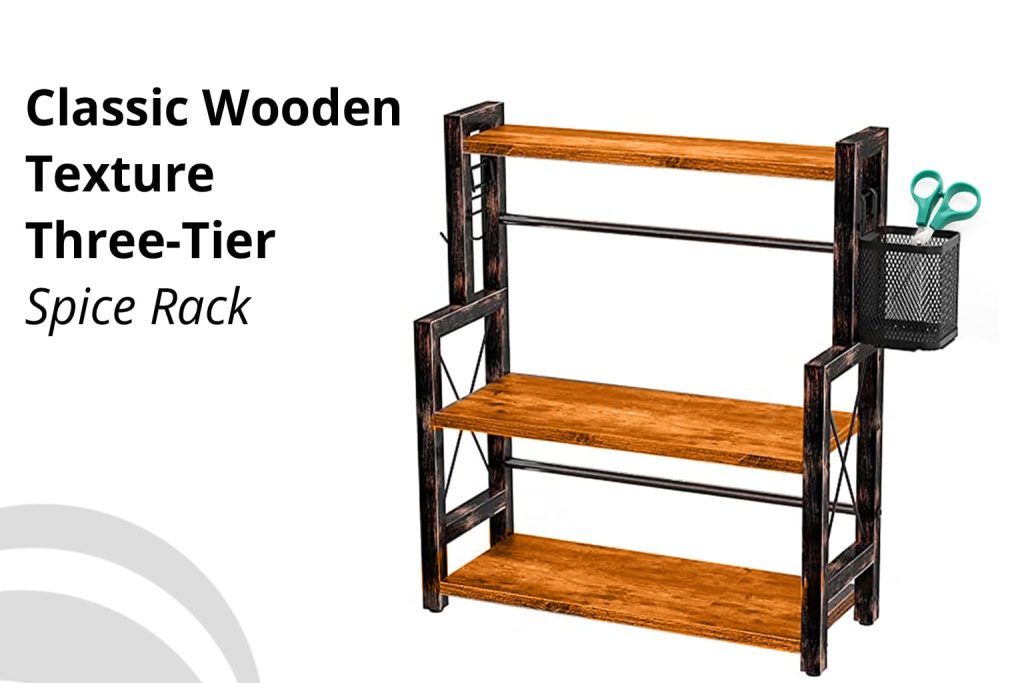 5. Splendid Wooden Texture Three-Tier Shelf
This is one of our elegant woodwork three-tier spice rack shelves for a clutter-free and organic look. It adds a chic look to the kitchen counter. You can store glass jars that will blend exceptionally with the shelf.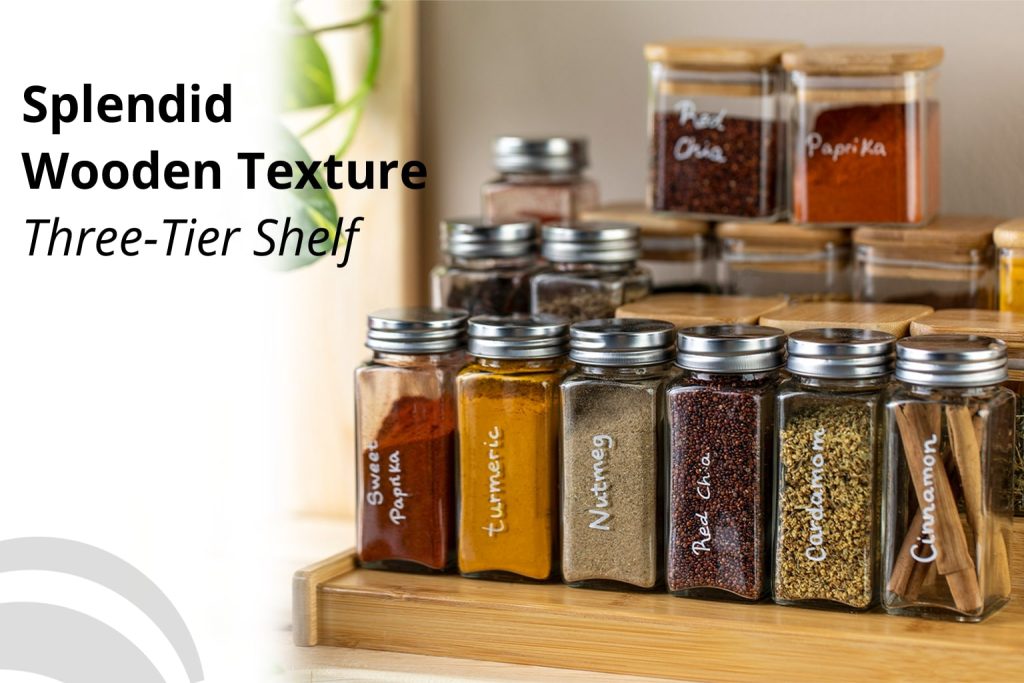 6. Free Standing Stunning Wooden Texture Spice Rack
Opt for a free-standing stunning wooden texture spice rack that will stand firmly on the kitchen counter, keeping all the spice jars secured. And you can use it as a drawer insert for keeping your spices organized & clutter-free.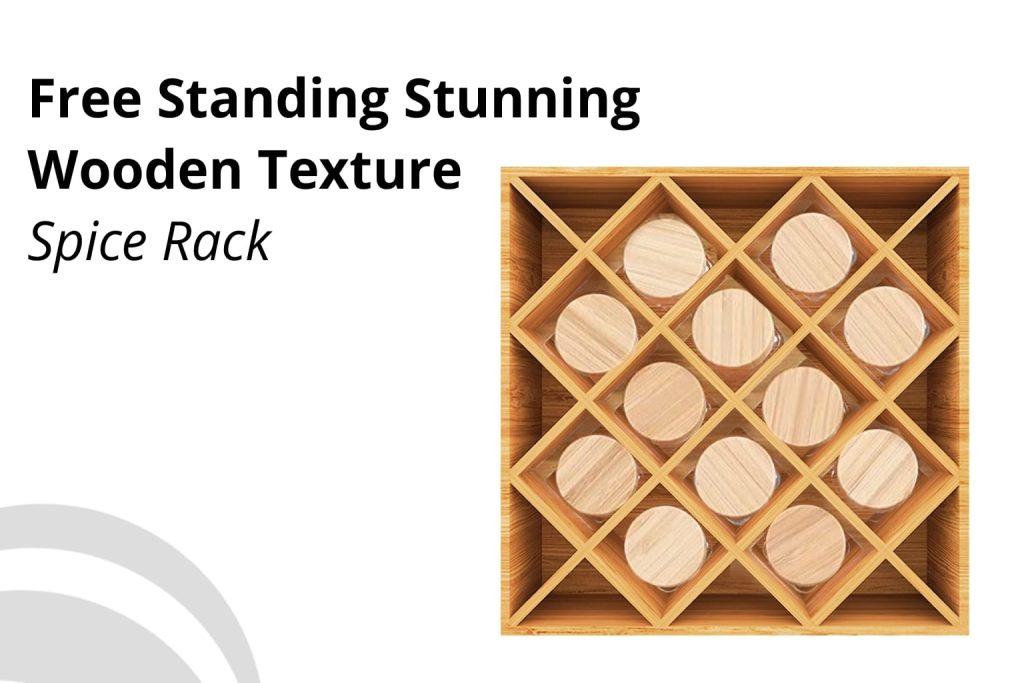 7. Magnetic Spice Jars
This is one of the clever types of spice racks that you can stick on the fridge or mount on a metal plate. These cleverly displaying spice racks add a colorful & striking look to your kitchen space.
Magnetic Spice Jars come in space-saving hexagonal shapes, fitting like a honeycomb pattern, and their strong magnets keep spices jars secured from sliding out of their respective placements.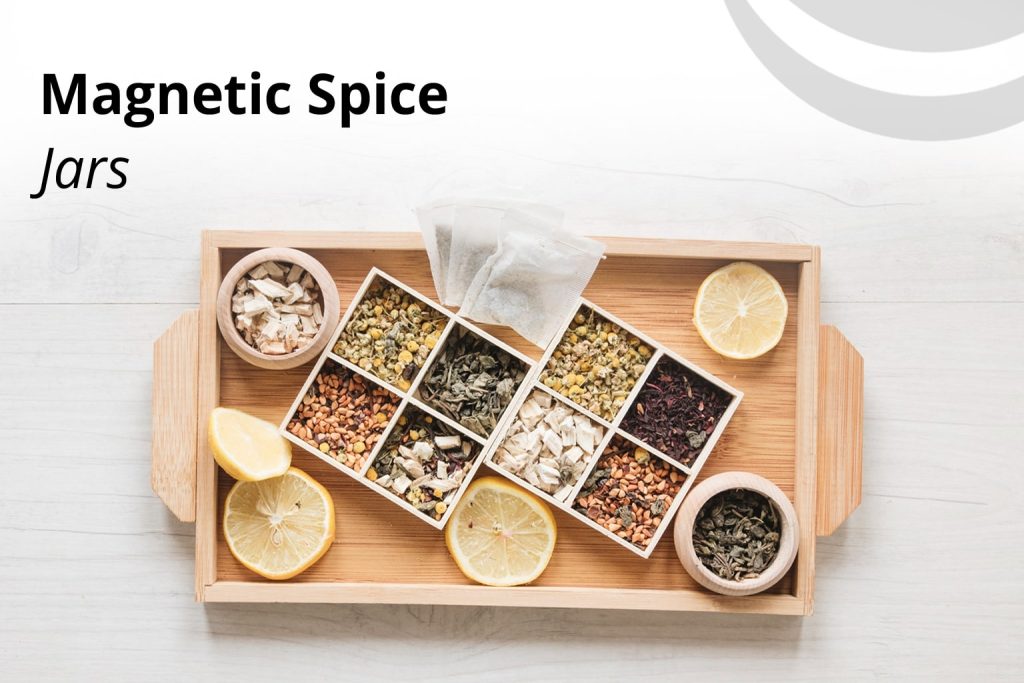 8. Adjustable Drawer Spice Rack
At 44 Wood, we customize adjustable drawer, which comes in a royal finishing wooden texture, adding a majestic look to your kitchen space.
If your kitchen drawer looks messy due to rolling bottles, we recommend going for this adjustable drawer spice rack which expands according to the exact width of your drawer, and its angled levels make it easy to see the spices inside the glass jars.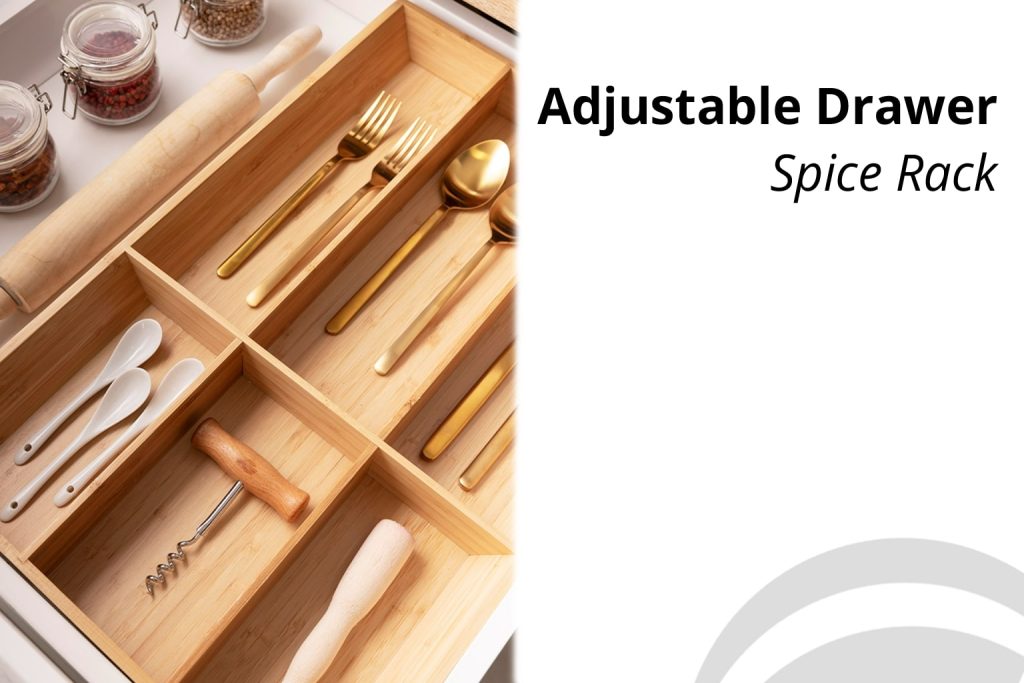 9. Spice Drawer Liner
This is one of the most economical spice racks, which offers you a custom drawer option. It has small soft foam liners which you can fit with basic kitchen scissors to blend perfectly. There is no requirement for installation or permanent mounting.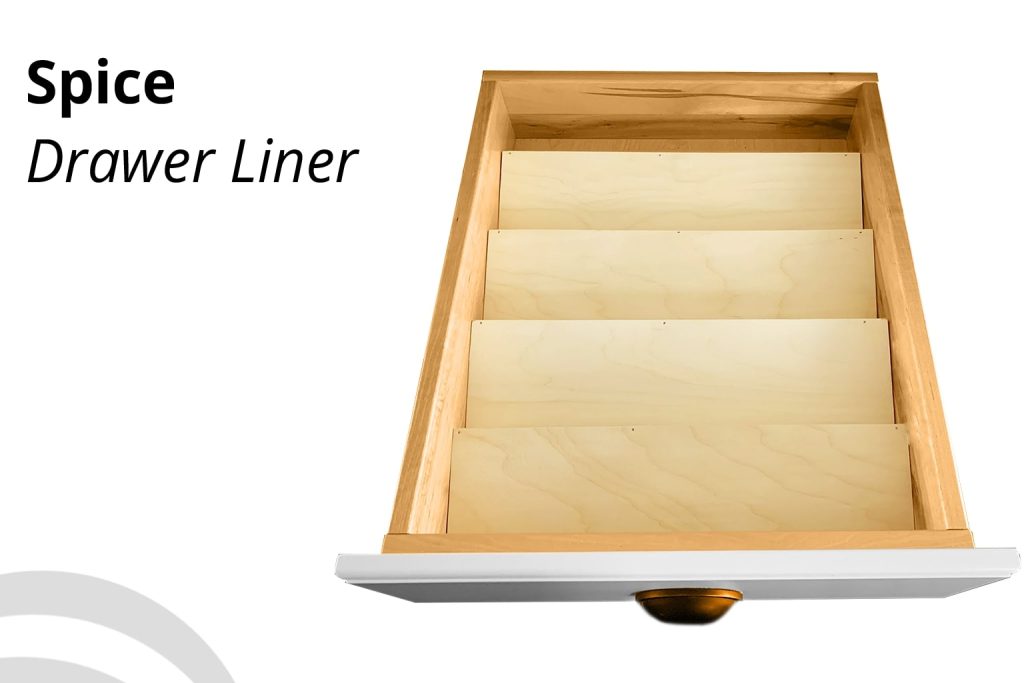 10. Spice Gripper Clips
This is one of the ideal spice racks that free up your cabinet shelves to store oils, dry ingredients, and more.
It has a screw or tape clip attached to the back of the kitchen cabinet door to hold up to 20 spice containers, depending on your requirements. At 44 Wood, we customize spice gripper clips with our Customized Kitchen Cabinets.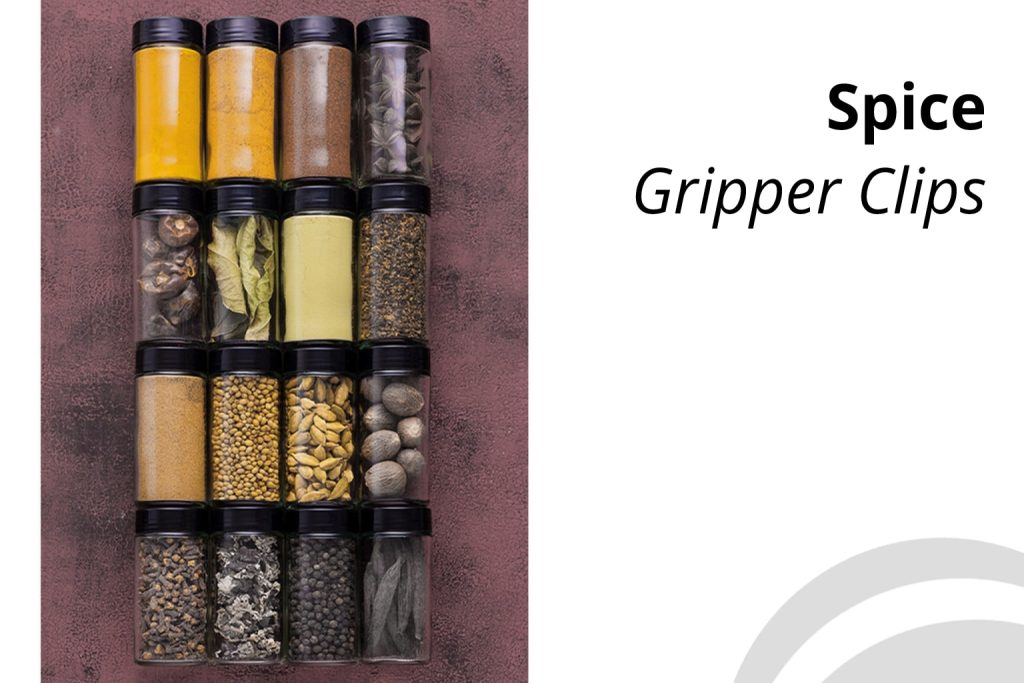 11. Spinning Countertop Spice Rack
Store up to 12 containers of spices and herbs with an elegant & plush spinning countertop spice rack. You can store air-tight glass jars, which will be displayed fascinatingly on this elevated carousel.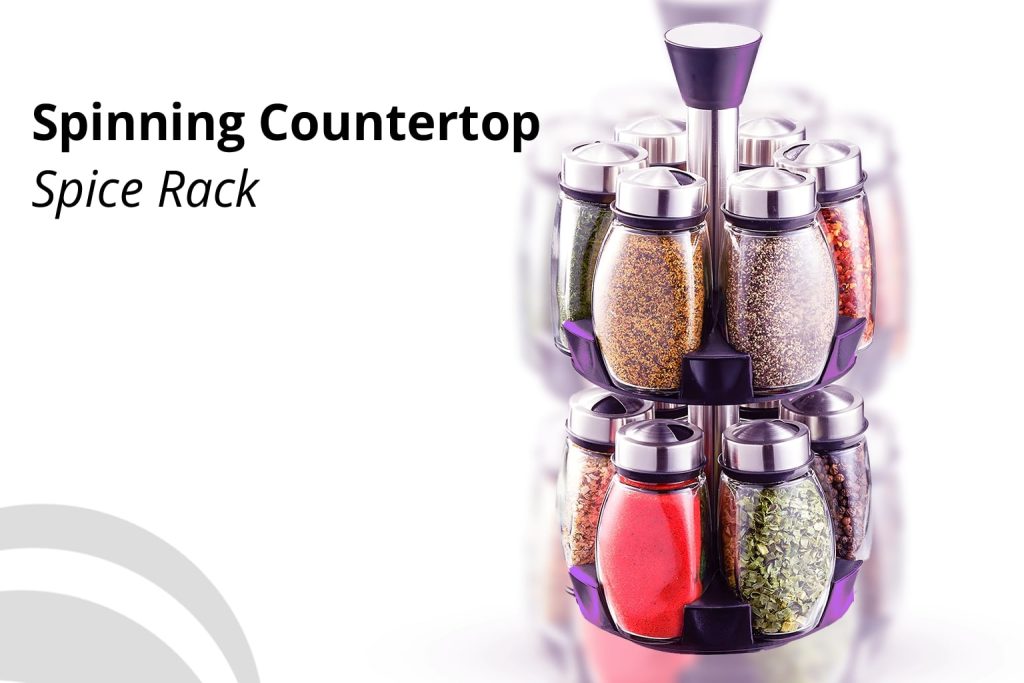 12. Pull-Down Spice Rack
This is one of the minimalist & imperial look three-tier spice racks that pull down to put & remove spice containers at eye level. It comes with side guards & tightly-spaced wire construction that keep the jars & containers secured from falling out.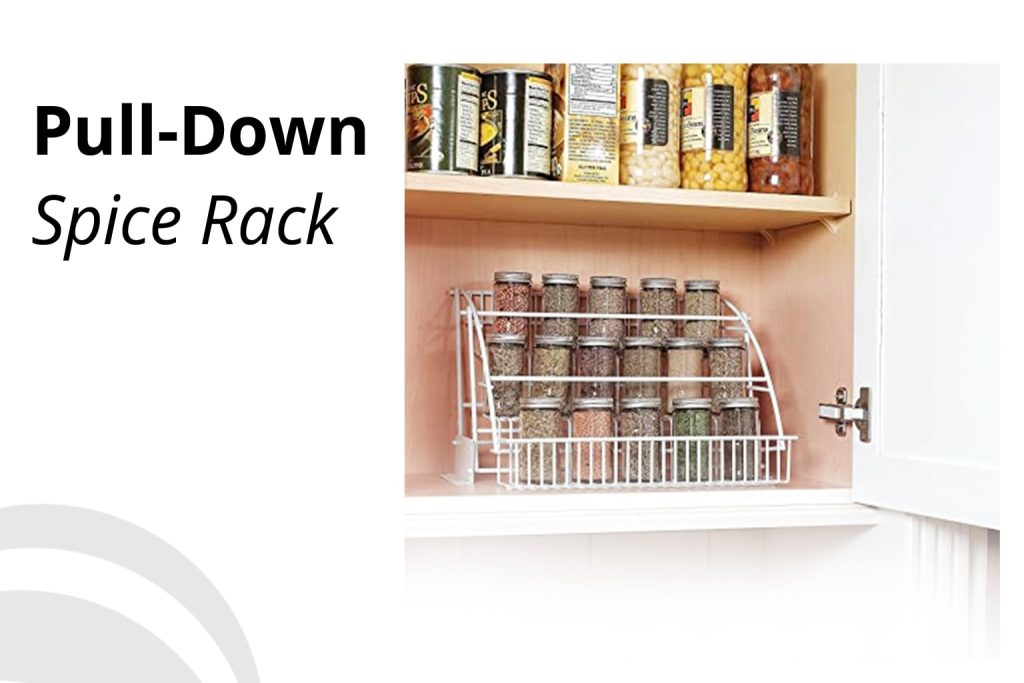 13. Slide-Out Spice Rack
If you want to store your spices on a higher or middle shelf, a slide-out spice rack is an ideal option. At 44 Wood, we customize pull-out slider spice racks according to your requirements. You will have full access to all the spices containers stored in it.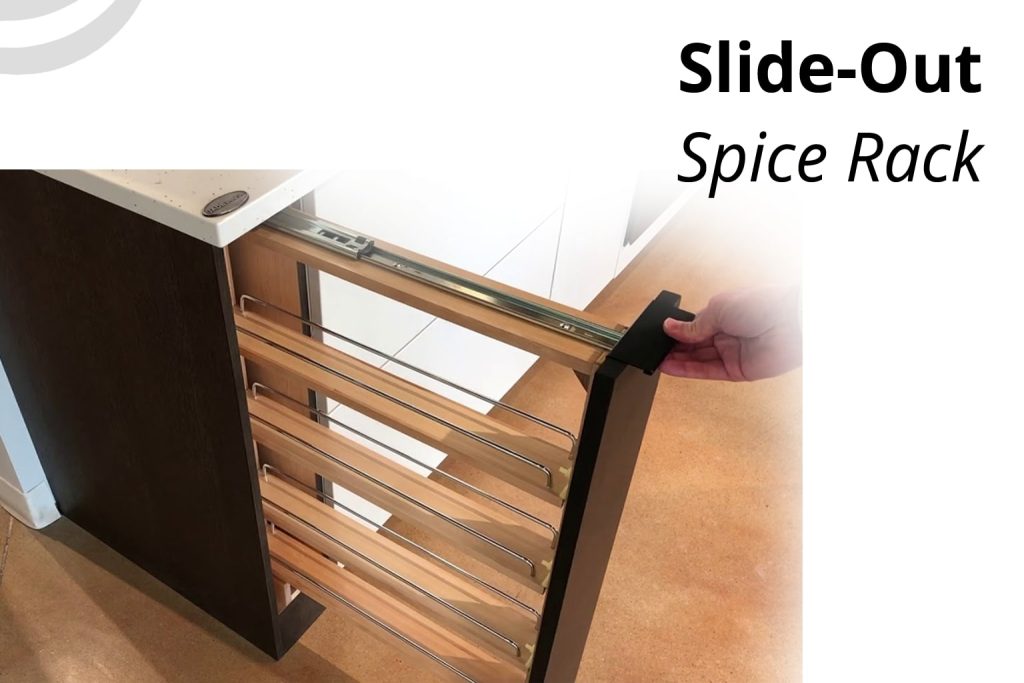 14. Stackable Spice Rack
At 44 Wood, we sell robust Wooden Stackable Spice Racks that can store up to 32 spices containers and are customizable according to your requirements.
You can install it on the kitchen countertop, hang on the wall, or tuck it in the drawer, depending on your preferences. Stackable Spice Racks are available in four tiers, and you can stack spice jars or place them side-by-side.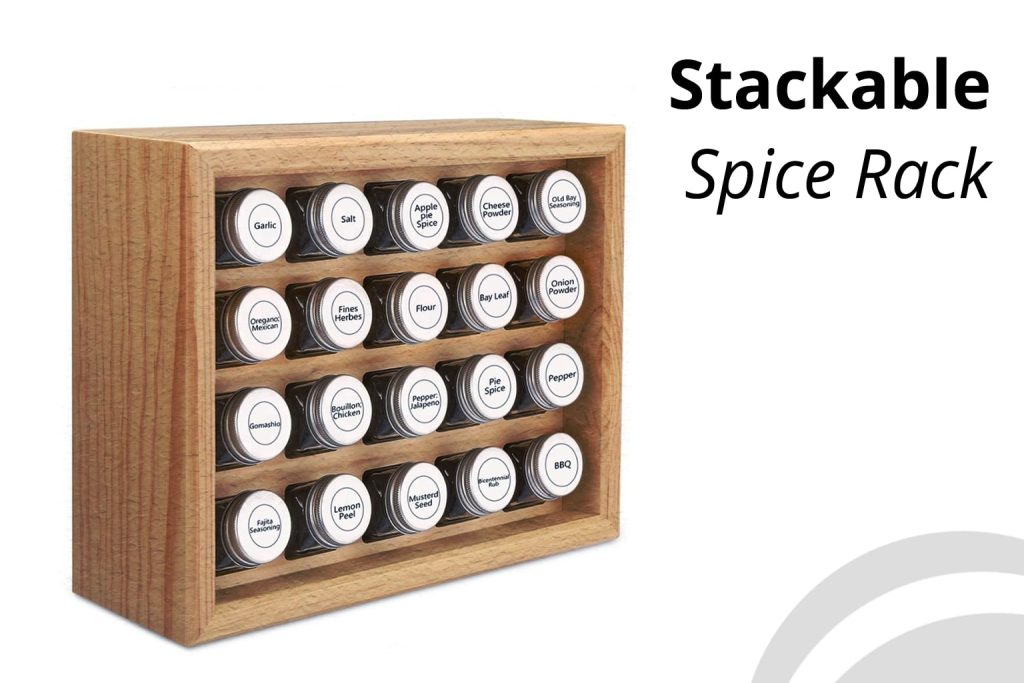 15. Hanging Spice Wall Mount
This is one of the best types of spice racks if you have an extensive spice collection. It comes with four tiers and can stack up to 32 glass jars.
At 44 Wood, we customize hanging spice wall mounts according to our client's requirements, and we also give a label option so you can label each glass jar.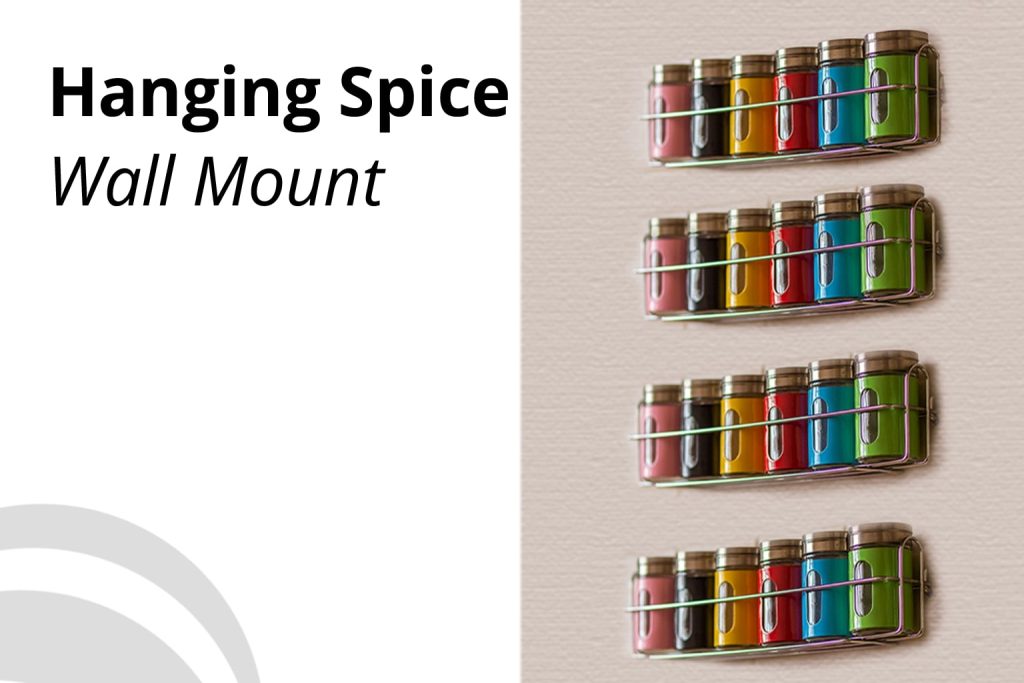 16. Revolving Countertop Spice Rack
If you want a spice rack storage option with a revolving (spinning) option, opt for a revolving countertop spice rack.
At 44 Wood, we customize it by giving it a plush wooden texture finishing, and it comes with pre-filled containers of up to 16 that is customizable according to your requirements & needs.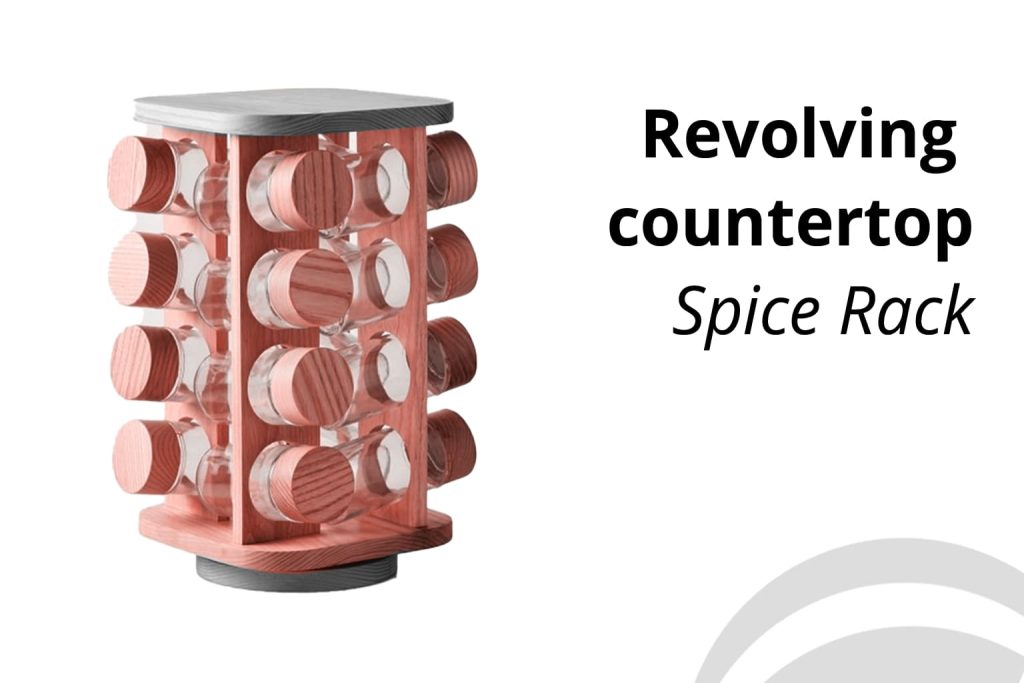 17. Versatile Spice Rack
At 44 Wood, we manufacture customized versatile birch spice racks attached to the wall. You can opt for 2-4 shelves depending on your requirements.
We will give it a natural wood stain to make it look captivating. You can store food recipe books, spices jars, containers, and sauces according to your requirements.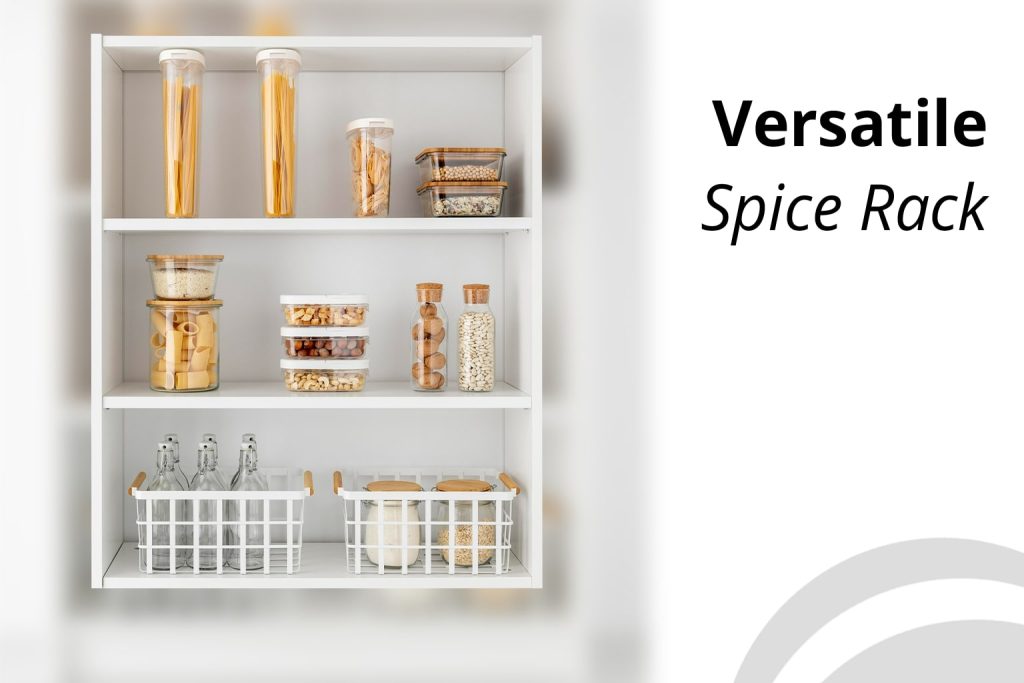 18. Magnetic Spice Rack
Apart from the magnetic spice jars, we manufacture customized magnetic spice racks that you can attach to the side of your fridge to grab and put back spices jars quickly. It has two removable hooks.
You can put other items apart from spices jars like herbs, pickles containers, packaged spices, scissors, ready-to-cook packaged food, and more, depending on your requirements.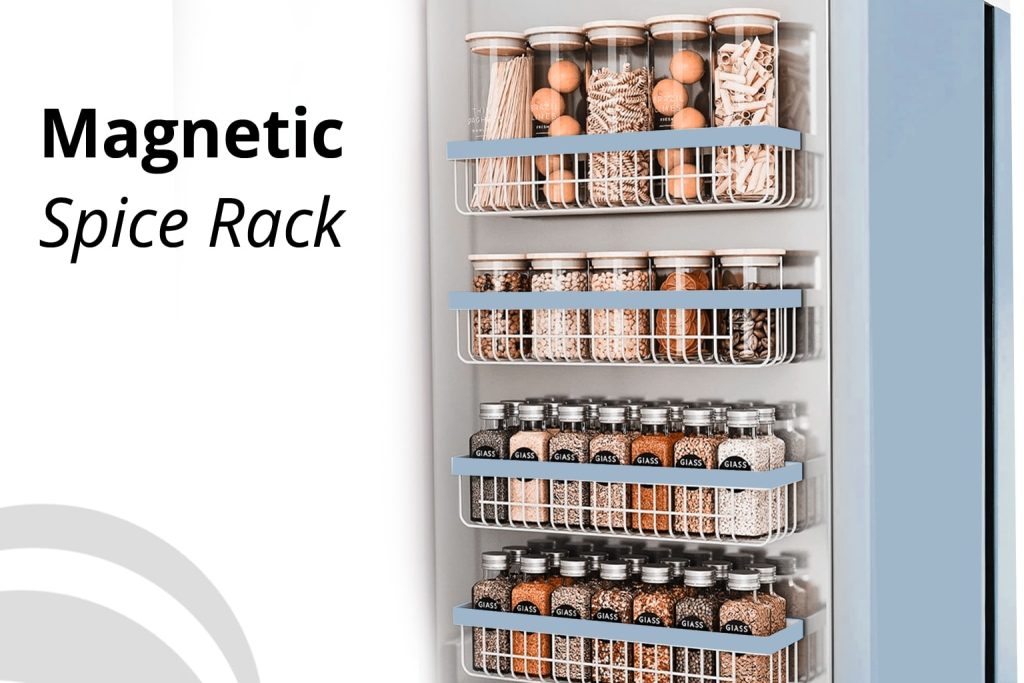 19. Flip Down Design Spice Rack
This is one of the wittiest spice racks with a flip-down design. You can stack up to 24 spices jars. You need to adjust the dividers on each drawer to fit different sizes & shapes of spices jars. At 44 Wood, we will customize according to your requirements & needs.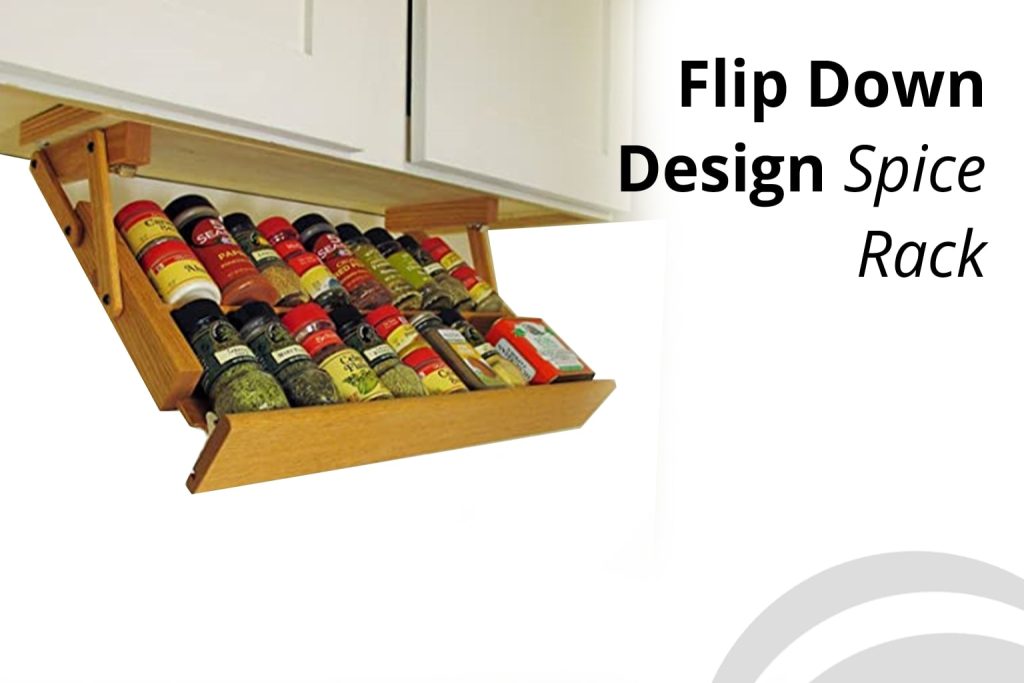 20. Deep Vertical Storage Spice Rack
If you want a broad, deep, and vertical storage spice rack, 44 Wood has the ideal spice rack for you. We manufacture customized deep vertical storage spice racks with a tiered organizer to elevate spices jars on a deep shelf. The non-skid pads on each tier ensure the jars & bottles don't roll over or fall.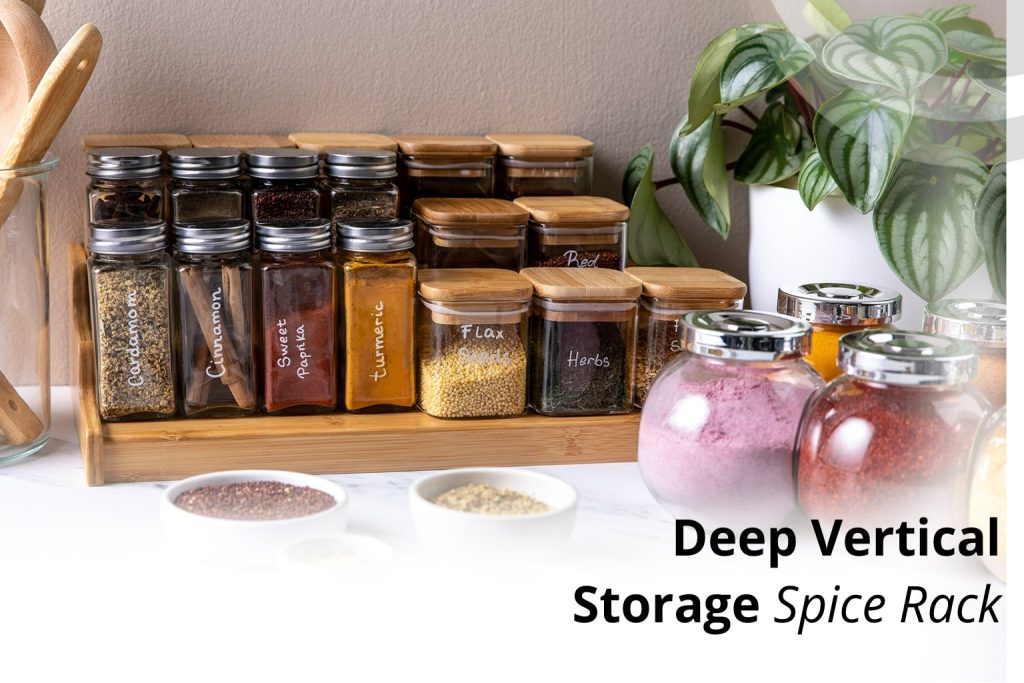 Conclusion
After reading the blog, you will have a crystal-clear understanding of different types of spice racks and shelves, and you will have decided which ones to opt for in your kitchen. However, if you have any questions or looking to customize spices racks & shelves, contact us by booking a free project consultation, and we will contact you.
44 Wood is one of the top 10 furniture manufacturers in Accra, Ghana. We sell an exquisite range of wooden furniture. We manufacture customized kitchen cabinets and spices racks.
You can visit our showroom to check our collection, shop online from our readymade collection, or book a free project consultation for a customized one. We are available via call at +233592221787 or email at info@44wood.com.